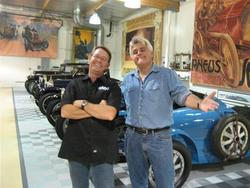 How can a plastic floor tile handle a five or six thousand pound Duensenberg?
Indio, CA (PRWEB) October 31, 2008
Swisstrax Corporation, manufacturer of earth-friendly, recyclable, plastic garage floor tiles -- Swiss engineered and made in the USA -- was seeing stars this month when they visited Jay Leno's Big Dog Garage in Burbank, California.
The story began when Swisstrax President Randy Nelson read an article and saw photos of Jay Leno's Big Dog Garage in Garage Style Magazine. With assistance from Don Weberg of Garage Style Magazine, Randy proceeded to meet with the people at Leno's garage. The first person he met was Swiss born Bernard Juchli. Juchli is a mechanical genius and keeps Jay Leno's Big Dog Garage running on all cylinders. He's also one of the country's top amateur formula race-car drivers and brings home trophies from the Vintage Auto Racing Association's (VARA) annual events.
Of all the garage flooring products on the market, including paint and epoxy coatings, Jay Leno selected Swisstrax modular garage floor tiles to place under his famous car collection. He was looking for a good looking floor solution, a durable, easy to maintain floor, and something easy to install, or relocate if desired. When Jay met with Randy Nelson proof was demonstrated face-to-face by Swisstrax do-it-yourself helpers in Leno's garage.
To demonstrate the ease of installation of Swisstrax floor tiles, Randy Nelson had his three children ranging in age from 8 to 11 install some of the interlocking floor tiles as Jay observed. A video clip of the Nelson Children installing Swisstrax snap-together, interlocking floor tiles can be seen at http://www.Swisstrax.com.
Jay Leno asked, "How can a plastic floor tile handle a five or six thousand pound Duensenberg?"
Jay was amazed to see how easy it was to install a new garage floor. And, of even greater amazement was Jay's reaction when shown the Swisstrax plastic garage floor tiles withstanding the weight of some of his vehicles weighing over 6,000 pounds. Swisstrax modular floor tiles hold up to 40,000 pounds in rollover weight and have up to 5100 pounds in compressive strength. For more information visit http://www.Swisstrax.com or http://www.Swisskits.com
Swisstrax garage floor tiles are available in many colors, several styles and can be used in a variety of indoor/outdoor flooring applications -- garage floors, dance floors, sport floors, patio floors, trade show floors, aircraft hanger floors, pool/spa floors, plus commercial floors and high performance floors. Jay Leno chose the Swisstrax Ribrax tile style in slate gray and pearl silver colors using a "parking pattern" placing each of his vehicles squared on the garage floor pad. Jay Leno's Big Dog Garage received a complete transformation by Swisstrax. Plus, NBC produced live video of the installation, and Jay Leno's Swisstrax endorsement will be airing on JayLenosGarage.com soon.
"The entire team at Big Dog Garage are really great people. Jay is very knowledgeable about his entire collection and Bernard, George, Jim, Per and the others build the cars from the ground up and turn them into what is seen as one of the finest collections in the world," said Randy Nelson.
One of the most impressive points about Jay Leno's collection is he drives all the vehicles and 80 motorcycles. Leno takes pride in his Duesenberg and Bugatti collections and made them the first choice for Swisstrax garage floor pads. Additional floor pads were installed in the workshop around the machines. Ribtrax anti-fatigue floor tile was especially appreciated by the workers around the larger equipment requiring standing and surveillance. A new tile floor covering was also installed around the clean-up area using a combination of non-slip and anti-fatigue floor tiles.
Swisstrax modular floor tiles are tested and proven to be the best interlocking, plastic, tile floor covering on the market. Jay Leno's seal of approval confirms Swisstrax's strategy to become the household name in modular flooring tile.
About Swisstrax:
Swisstrax, Inc. offers a practical and modern alternative to standard concrete and epoxy garage flooring. Randy Nelson, President, directed the development of the revolutionary Swisstrax product line in Switzerland over 19 years ago. Randy brought the product to the USA and located the Swisstrax manufacturing and distribution center in Southern California. Swisstrax is proud of being named the official flooring supplier for world renowned and respected enterprises. Hendrick Motorsports, Ferrari, Grand Am, American Le Mans, Mini USA, Ford Motor Company, AVIS, Honda, Shelby Automobiles and most recently, Jay Leno are just some of the clients the Swisstrax team is proud to serve. To receive a free sample of Swisstrax floor tile, call toll free at 1-866-748-7940.
###