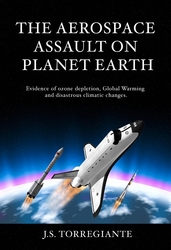 The Aerospace Assault On Planet Earth
Tarpon Springs, FL (PRWEB) October 30, 2008
Once again, environmental issues are a hot button topic for the election year. Politicians are rushing to the dealerships to buy hybrid cars, Barack Obama has gone on record criticizing Detroit for continuing to create gas guzzling vehicles, and the coal lobbyists are desperately trying to convince the American public that instead of alternative fuels, we should turn to technology to solve the world's environmental issues. One new book suggests that technology, instead of being our savior, is actually the cause of our problems.
J.S. Torregiante, author of the new book "The Aerospace Assault on Planet Earth", has been researching the impact of worldwide space programs on the ozone layer and the earth's weather systems for over three decades. He proposes that space launches, such as those from NASA, the Russian Space Agency and 44 other countries orbiting satellites, have unintended consequences that are ruining the planet -- and he has evidence to back it up.
http://www.aerospace-assault-on-planet-earth.com
Out of the 170 examples cited in the book, Torregiante points to two recent disasters that have been widely covered in world media. In December 1999, 105 mile an hour winds from an unnamed storm in France devastated rural areas. At the same time, out of season rainfall and widespread mudslides in Venezuela cost 25,000 people their lives and left 150,000 more homeless. These tragedies took place just three days after the launch of the space shuttle Discovery on December 20th. Just a few months later, storms ravaged the Anchorage, Alaska area, just two days after Russia launched an unmanned spacecraft to link up with the Mir space station.
http://www.aerospace-assault-on-planet-earth.com/home.html
"NASA and other Aerospace Engineers must not believe in Newton's third law of motion, that for every action there's an equal and opposite reaction," says Torregiante. "After the Challenger disaster, NASA supposedly imposed a five year moratorium on launches. That period actually lasted from January 1986 to September 1988. During this 32 month span of time, global weather went back to normal and the ozone hole decreased in size by 0.3 million square miles during that same period. Would anyone consider this a coincidence? The facts seem to be evident."
Can this really be proven? Will there ever be solid evidence that space launches are causing the depletion of the ozone layer? With the information publicly available at this time, it is likely that no evidence will ever be anything more than circumstantial. Read Chapter One now for an inside look into "The Aerospace Assault On Planet Earth" at http://www.aerospace-assault-on-planet-earth.com/chapterone.html. The one thing that can be confirmed is that technology has always carried unintended consequences, especially when it comes to the environment. From undrinkable water in Industrial Revolution era London to the apparently sudden realization of the impact of SUVs on the ozone layer, society seems to figure out the problems only when it is too late.
In the epilogue of Torregiante's thought provoking book, he references a statement from President John F. Kennedy made in 1962, only four years after NASA's inception. "For in the final analysis, our most basic common link is that we all inhabit this small planet. We all breathe the same air. We all cherish our children's futures. And we are all mortal." To one author, the earth's inhabitants may be more mortal than we realize.
http://www.aerospace-assault-on-planet-earth.com/authors.html
###