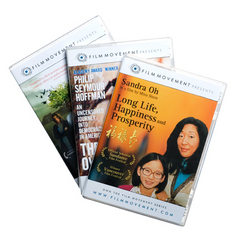 New York, NY (PRWEB) November 11, 2008
If you are looking for a different, cultural and artsy gift for a movie buff on your Holiday Gift List, consider http://www.FilmMovement.com . A Film Movement membership allows you to enjoy award-winning films from around the world without ever having to leave the comfort of your home. Each month the recipient will receive, to own, some of the world's best independent and foreign films straight from one of the world's top film festivals like Cannes, Sundance, Berlin and Tribeca. Members receive the films either before or at the same time the films are in theaters. In addition to a feature film, each monthly DVD comes with a short film from a hot new director.
Film Movement is the only first-run, film-of-the-month-club for award-winning, independent and foreign films! With the booming interest in independent films and popularity of film festivals as both cultural and vacation destinations, everyone wants to get in on the action, and with a Film Movement subscription they have the opportunity to bring the film festival home! Special Holiday Film Movement memberships are available in 3, 6 or 12-month subscriptions at 20% off – as little as $11.00 per monthly DVD package.
So, instead of A Fun Night Out, think of this as a Fun Night In. To make the evening extra special, invite friends over to watch one of the movies selected by Film Movement, throw some Jiffy Pop on the stove, and serve an assortment of theater-style candy and appetizers for nibbling. You can even organize a party with a foreign flair...for example, if you are watching a French film, serve a baked Brie in puff pastry and French bread with goat cheese and sun-dried tomato spread. Just think about how much fun you'll have and how much money you'll save.
Press Contact: Karen Parziale: 201-222-1309
http://www.filmmovement.com
###