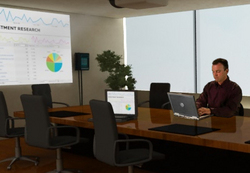 Technology is evolving at an incredibly rapid pace
Minneapolis, MN (PRWEB) November 11, 2008
From YouTube videos to revamped websites and interactive online classes, colleges and universities are staying at the forefront of technology by adopting innovative ways to attract and retain students.
A recent study from the University of Massachusetts-Dartmouth found that colleges are turning to popular social media platforms to recruit students more than other sectors. In a January 2008 story, Boston Globe writer Peter Schworm wrote that UMass researchers found that colleges are utilizing Internet technologies including podcasts, message boards, blogs, and social networks more than Fortune 500 companies.
Hap Aziz is the Director of the School of Technology and Design at Rasmussen College, a private college with both virtual and traditional campuses.
"Technology is evolving at an incredibly rapid pace," Aziz said. "If we want to be able to compete with other colleges and attract the attention of our technology-saturated students, we have to be innovative and creative."
This fall, Rasmussen College will debut Rastopia, an interactive city where prospective students can explore career options and degree programs through short quizzes, games and videos. Presenting a fun, bright environment, complete with talking "residents" that are actual students and staff at the school, Rastopia is designed to engage and entertain prospective students in a comfortable environment that they can explore at their own pace.
"Generation Next students want to have all of the information they need at their fingertips," Aziz said. Rastopia gives these students that chance and allows them to experience college in a fun, interactive way that is still informative."
Rastopia is just one example of the many ways that colleges are using technology to reach out to students in their environment.
To experience Rastopia for yourself, visit http://www.Rastopia.com.
About Rasmussen College
Founded in 1900, Rasmussen College is a regionally accredited institution of higher learning dedicated to the growth and development of its students, employees and the communities it serves. Rasmussen is a premier provider of career-focused educational experiences serving more than 8,500 students through a network of 15 Rasmussen College campuses in the Minnesota, Florida, North Dakota, Illinois and Wisconsin and virtual campuses operated by its Deltak Edu division. Through these campuses, Rasmussen is able to offer students a broad range of quality programs ranging from certificates to Master's focused on the areas with the greatest occupation opportunities. To learn more about Rasmussen College, please visit http://www.Rasmussen.edu.
###