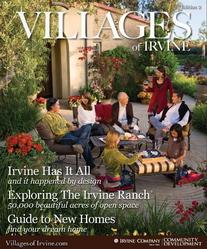 The Villages of Irvine offer an incredible lifestyle -- and our latest, online edition of the Villages of Irvine magazine really captures that experience for homebuyers
Irvine, CA (PRWEB) November 17, 2008
The second edition of the popular Villages of Irvine magazine is now available online. The magazine, which can be found at VillagesofIrvine.com, features interactive components that highlight the exceptional lifestyle and new homes in Irvine.
The Villages of Irvine feature nationally recognized master planned community designs that have won numerous architectural and planning awards. Most recently, the Village of Portola Springs was honored with prestigious Gold Nugget Awards for "Best Master Planned Community" and "Best Community Site Plan."
"The Villages of Irvine offer an incredible lifestyle -- and our latest, online edition of the Villages of Irvine magazine really captures that experience for homebuyers," said Tom Veal, senior vice president of Residential Marketing and Product Planning for Irvine Company Community Development.
"Now homeshoppers can read testimonials from actual Villages of Irvine residents, and then click on links to access the residents' video interviews. Listening to these enthusiastic homeowners' comments allows homeshoppers to hear firsthand how wonderful these new homes truly are and how everything they want and need is right here at the Villages of Irvine," continued Veal.
The Villages of Irvine magazine also features a profile of Northwood High School, which has been honored as both a National Blue Ribbon School and a California Distinguished School. Readers get the inside scoop on the school's academic achievements in a Q&A with Leslie Roach, the school's principal.
Other articles provide information about the abundant trails, parks and open space throughout the Villages of Irvine and the specific amenities for recreation and socializing that residents of Portola Springs and Woodbury enjoy every day. Plus, "Did You Know" highlights the impressive achievements the Villages of Irvine have reached in the areas of safety, education, business and master planned community planning.
Homeshoppers are invited to learn more about the new homes in Irvine currently selling within the Irvine Villages of Portola Springs and Woodbury by visiting http://www.VillagesofIrvine.com or by contacting a Villages of Irvine New Home Consultant at (888) 820-0721.
About the Irvine Company
The Irvine Company is a privately held, 140-year-old real estate planning, development and investment company best known for the master planned community designs of the Villages of Irvine, the balanced, sustainable communities it has planned and created in Orange County, Calif.
###