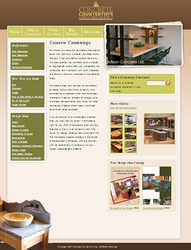 People want to have something they can show off, not something that mimics what their friends or neighbors have
Yucaipa, CA (PRWEB) November 21, 2008
New website, Concrete-Countertops.org functions as an A to Z guide for consumers interested in investing into remodeling their home's countertops. Because there are so many options in designing a great concrete countertop, this site will help homeowners and designers get started in exploring the right questions and learning about what the possibilities are.
Covering topics like performance and durability, how they're made, countertop design ideas and they're eco-friendly benefits the site also features an extensive online photo gallery to gain inspiration from. Its comprehensive articles cover cleaning and maintenance tips, costs compared to other popular counter materials, available color and edge options, and tips on whether building a countertop is a do-it-yourself project or one that should be left for a professional.
Concrete far surpasses other commonplace materials in design choices for shape, color, thickness, embedments and more. Concrete brings new options for countertop surfaces without sacrificing durability, and no other countertop material offers nearly unlimited options as does concrete.
As countertop artisan Terry Stogner of Concrete Interiors explains, "People want to have something they can show off, not something that mimics what their friends or neighbors have" and as the site points out, concrete offers the perfect medium to do so.
For this reason, Concrete-Countertops.org was created, to guide homeowners and provide them with the proper tools and knowledge to create a custom concrete countertop that is an extension of an already existing living space. One of concrete's most alluring features is that it is an artisan's craft.
To further help go through the process of choosing and ideal countertop, the site offers invaluable concrete countertop design videos. Presented by concrete countertop expert, Fu-Tung Cheng, the videos cover designing functional and practical countertops.
Concrete-Countertops.org also brings together consumers and local concrete contractors by pointing to a nationwide contractor directory. Consumers can use the site to learn about concrete countertops, choose photos of designs they like, and then access the directory for contact information for concrete countertop contractors in their local area.
Photos courtesy of Hard Topix.
###