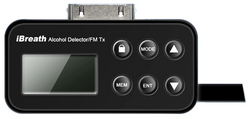 The idea of an iPod compatible breathalyzer is terrific; especially for people who like to have a drink or two after work. It can't be any easier than blowing in the tube and looking at the sensor. I can really see these things saving lives
Newport Beach, CA (PRWEB) November 23, 2008
The holiday season is a time when many people get together with family and friends to celebrate. It also tends to be the biggest time of the year when people consume alcohol. David Steele Enterprises, an online retailer that provides unique consumer electronics, accessories and other hard-to-find gifts, has invented the iBreath® -- a life-saving product that will enable all legal-age drinking adults to party freely and responsibly.
The iBreath is the ultimate iPod accessory that lets users test their own blood alcohol content to make sure they haven't had too much drink before getting behind the wheel of an automobile.
This cool device is a fully functioning alcohol breathalyzer, which also doubles as an FM transmitter. It broadcasts the tunes from your iPod to an unused FM frequency so you can listen to your music through the nearest FM radio.
It's simple for anyone (from a 21-year-old college student to a grandparent) to use. Just fold out the blow wand and exhale into it for at least 5 seconds. Two seconds later, this potentially life (and jail) saving tool will let revelers know if they're within the legal limit to drive. It even contains a timer that can be set from 1 minute up to 8 hours in order to remind users when it's time for the next breath test.
According to the National Center for Injury and Prevention Control, alcohol-related motor vehicle accidents in the U.S. kill someone every 31 minutes and injure someone every two minutes. The need for safety devices (including breathalyzers) has never been stronger.
"The idea of an iPod compatible breathalyzer is terrific; especially for people who like to have a drink or two after work. It can't be any easier than blowing in the tube and looking at the sensor. I can really see these things saving lives," said Joseph Melilo, a retired New York police officer.
This iBreath iPod accessory comes in a compact, stylish design, requires no batteries, shows all functions and results on the built-in LCD display, measures your Blood Alcohol Content (BAC) range within 0.000 - 0.100% and doubles as a wireless FM transmitter.
Pricing and Availability
This useful accessory will make a great gift and is offered at an introductory price of $79.00 at DavidSteele.com. Consumers can also place an order by calling 1-949-823-9445 Monday-Friday from 9-4:30 p.m. PST.
About David Steele Enterprises, Inc.
David Steele Enterprises, Inc., offers an online store to purchase unique and creative consumer electronics, accessories and other hard to find gifts. David Steele Enterprises, Inc.'s website is one of the most visited websites for consumers looking for unique gifts.
iBreath is a registered trademark of David Steele Enterprises, Inc.
Forward Looking Statement Disclaimer
David Steele Enterprises, Inc. makes no warranties, express or implied, as to the ability of this device to determine whether a user is intoxicated or able to operate machinery or a motor vehicle in a safe manner. Don't Drink and Drive.
# # #