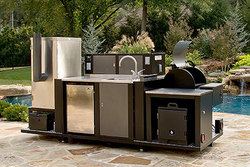 Our trial runs have convinced us that people are going to really enjoy using it.
Ponca City, OK (PRWEB) November 26, 2008
After listening to consumers express a desire for a reasonably priced outdoor kitchen that would go on the road and look good on the patio, Oklahoma smoker manufacturer Cookshack, Inc. went to work designing just that.
When the sleek Q-Kitchen by Cookshack is in place on a patio, it looks as if it was custom-designed and built on the spot. The Q-Kitchen features a prep station, a storage center, a grill station, and a smoker station. Outdoor cooking is a pleasure with its stainless steel countertops, ample storage, refrigerator, sink, on-demand hot water, drop-down bar, smoker oven, and grill. It's designed for ease of use and clean-up.
With a simple reconfiguration which takes fewer than 8 minutes, the Q-Kitchen becomes a completely mobile cooking center which can be pulled behind a car. Consumers can, for the first time, take a fully-equipped mobile outdoor kitchen with them to events away from home. Split-axle wheels and tongue are designed for quick on and off. Electric legs are remotely controlled to raise the kitchen for adding or removing wheels and tongue. Legs are individually adjustable for leveling the kitchen on uneven terrain.
"While there are large, commercial mobile kitchens on the market, none of them meets the needs of the consumer market for an affordable outdoor kitchen designed for backyard cooks who enjoy going to the lake, tailgating, family events, and so on. We created the Q-Kitchen for just this market," says Donna Johnson, Cookshack co-owner. "Our trial runs have convinced us that people are going to really enjoy using it."
As beautiful as it is efficient, the Q-Kitchen features a pebbled powder-coated black finish with pewter powder-coated steel trim. Countertops, sink, and refrigerator door are stainless steel.
Standard equipment includes complete Q-Kitchen with prep station, storage centers, smoker and grill platforms; wheels; tongue; 2 - 12v deep cell batteries; inverter, tongue jack, cover(s). The smoker and grill stations are customizable by the buyer.
Cookshack, Inc. was recently awarded the Governor's 2008 Leadership in Manufacturing award (Oklahoma), and is a leading national manufacturer of smoker ovens for home, commercial, and competition use, marketed under the brand names of Cookshack and Fast Eddy's by Cookshack.
Contact Cookshack, Inc. at 1-800-423-0698.
Media should contact Donna Johnson at 1-800-423-0698 for more information including images for print or web.
###