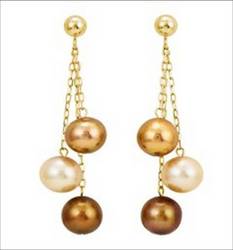 We want customers to know that holiday shopping for jewelry can be both simple and affordable
Kansas City, MO (PRWEB) November 26, 2008
This holiday season consumers can simplify holiday shopping with gift buying tips from Helzberg Diamonds. In 2007, Consumer Reports stated that 40 percent of eager Black Friday holiday shoppers had jewelry gifts on their lists, so Helzberg is offering helpful holiday shopping tips to consider when trying to find the perfect gift that sparkles.
"We want customers to know that holiday shopping for jewelry can be both simple and affordable," said Joyce Hrinya, Senior Vice President of Marketing and Customer Satisfaction for Helzberg Diamonds. "With a little research and thought, anyone can select a jewelry gift that will impress their loved one and not break the bank."
Helzberg's Holiday Jewelry Shopping Tips:
1. Conduct research before jewelry shopping at the store: We all do research when purchasing a car, appliance or electronic equipment, but why not for holiday shopping? Gathering information before a visit to the store is invaluable to the purchase process. While we might not be spending as much as we did on our last car, jewelry gifts are an investment and more importantly, a gift of love. By visiting Web sites like helzberg.com, one can see which products rate highest among consumers and compare prices. And with so many holiday gifts to purchase, doesn't saving some travel and shopping time make sense?
2. Take inventory of the jewelry box: Spending some time taking inventory of the jewelry in the dresser or jewelry box before starting your shopping will save you from gift-giving embarrassment. Perhaps there is something missing from the must-have list such as classic pearl earrings, diamond stud earrings or a diamond pendant for her or a stainless-steel watch for him. Helzberg has a list of jewelry essentials to assist you in determining what is missing from your loved one's collection.
3. Plan for your year ahead with a fitting jewelry gift: The holidays are a great time to think ahead and add a few pieces to a loved one's jewelry collection essential for the upcoming year. Everyone likes to show off a new jewelry gift on special occasions. That dressy wedding is the perfect opportunity for a new watch or cufflinks. A Venetian Glass pendant or multi-chocolate cultured pearl earrings will add a perfect touch to that summer wedding outfit. Looking at your social calendar in the New Year is a great way to narrow and simplify your holiday shopping.
4. Consider personality and interests when jewelry shopping: Everyone has a variety of people to buy for at the holidays - people who have everything, those who are sporty, and individuals who prefer a simple look. There is no better way to gift-give than by personalizing the purchase according to personality or interest to show consideration and thought. Fortunately, there are tools to make it easy. One can search a helpful holiday gift guide for ideas according to personality or occasion, helping you make the right purchase, tailored to your loved one's persona.
5. Don't discount fine jewelry online due to budget: Many retailers are working to make holiday gift giving a bit easier on the wallet. Take note of special deals and financing. From timeless pieces such as classic stud earrings to unique champagne diamond earrings, Helzberg Diamonds has top-rated gifts all for less than $500. And, with 18-month interest-free financing on purchases more than $2499 as well as a free layaway program with any 10% or $10 minimum down payment, a great jewelry gift is even easier on your gift budget.
Helzberg Diamonds, founded in 1915, is a leader in fine jewelry online and retail jewelry, and has nearly 270 stores nationwide selling a wide selection of fine jewelry, including diamonds, precious gems and watches. Helzberg Diamonds takes pride in its history of offering exceptional value, exclusive designs and timeless jewelry. Helzberg Diamonds is based in North Kansas City, Mo., and is part of the Berkshire Hathaway, Inc. (NYSE symbol BRK) family of companies. For Helzberg Diamonds locations nearest you, call toll-free 1-800-HELZBERG or visit helzberg.com.
For more information or to obtain high-res images of top-rated holiday products, please contact Rachel McKenney at 816.423.6482.
Take a look at the Top 10 Hot Gifts for this holiday season and start your shopping early.
The perfect jewelry gift for the woman in your life:
1) Patience, Angels From The Heart Diamond Pendant: $449.99
For those wishing time would pass swiftly, Patience from award-winning designer Susan Helmich, is the perfect jewelry gift. Handcrafted in 14-kt yellow-gold, this "precious metal message" sparkles with 13 round diamonds and integrates a small, delicate heart into its design. Patience communicates your deepest feelings in a tangible way.
2) Handcrafted Venetian Glass Pendant: $69.99
A truly wearable piece of art, this disc-shaped Venetian Glass pendant is handcrafted by Italian artisans using a centuries-old Lampwork technique. Unique color and pattern variations to make each piece distinctive. The gold, blue and red pendant measures 40 millimeters and is set on an 18" extendable black cord.
3) Luscious Multi-Chocolate Cultured Pearl Earrings: $99.99
Six multi-colored chocolate freshwater pearls dangle delicately from 14 kt yellow-gold earrings. These contemporary classics are the perfect compliment to the season's sultriest earth-toned ensemble.
4) Pacific Fire Topaz Ring: $149.99
This cushion-cut Pacific Fire Topaz Ring is a perfect way to add some color to her jewelry box. This white-gold setting features an eight millimeter Pacific Fire Topaz center stone, four round white topaz and 12 round brilliant cut diamonds.
5) Past, Present & Future Diamond Pendant: $269.99
Celebrate your relationship with this 14 kt white-gold pendant that features three round brilliant-cut diamonds, weighing approximately ¼ Carat TW. This three-stone pendant is a thoughtful holiday gift idea and makes the perfect stocking stuffer.
6) Champagne Diamond Earrings: $399.99
Champagne diamonds have a captivating, playful elegance that is warm, chic and exotic. The graceful palette of earthy, neutral tones ranges from light champagne to deep, distinctive shades of cognac, with soft honey and radiant spice between. Romantic and feminine, these ¼ Carat TW champagne and white diamond drop earrings on white gold create the season's hottest red-carpet look.
The perfect gift for the man in your life:
7) Citizen® Eco-Drive™ Stainless Steel Men's Watch: $449.99
Give him a gift that is sure to keep him on time! The Citizen Eco-DriveTM Skyhawk AT Men's Watch has a stainless steel bracelet, black dial, radio-controlled accuracy and two alarms. The world-time makes it a must-have holiday gift for your favorite globe-trotter.
Looking to get engaged this holiday:
8) Helzberg Radiant Star® Diamond Engagement Ring: $5,699
Surprise her with this once-in-a-lifetime diamond engagement ring, accompanied by an IGI certificate of quality. Designed to shine, the unique, cushion-cut center diamond has nearly three-times the reflective surfaces of a traditional diamond, making it sparkle like no other. Unmatched in its brilliance, the 3/4 Carat diamond is set in a 14-kt white-gold band surrounded by seventy-six round accent diamonds, making this ring simply breathtaking.
9) "Caroline" Diamond Engagement Ring: $8,999
This 18-kt white-gold Helzberg Signature Collection® Caroline engagement ring epitomizes Hollywood glamour. Fluid lines and soft curves give this ring its distinctive, feminine look. With six round accent diamonds adorning a 1 Carat brilliant-cut center diamond, the "Caroline" diamond ring is sure to light up her eyes when you propose.
The perfect gift for a good cause:
10) 2008 Limited Edition Toodles™: $14.99 with a free I Am Loved® reusable tote with purchase. This limited-edition Toodles is available at all Helzberg Diamonds stores while supplies last. All profits benefit these children's charities through Jewelers for Children:

The Make-A-Wish Foundation
St. Jude Children's Research Hospital
Elizabeth Glaser Pediatric AIDS Foundation
CASA: Court Appointed Special Advocates for Children
For more thoughtful holiday gift ideas and product images, browse the selection of fine jewelry gifts at Helzberg Diamonds. To request additional information, samples or high-res images, please contact Rachel McKenney at 816.423.6482.
All gifts are wrapped and ready for the holidays, and include your choice of card at no extra charge.
###