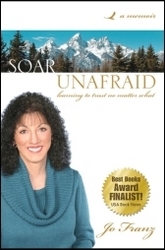 Battle Ground, WA (PRWEB) December 2, 2008
Soar Unafraid: Learning to Trust No Matter What by Jo Franz award-winning finalist, National Best Book 2008 Awards.
As the disease took its toll Jo discovered the doctors were wrong to tell her to just take care of herself. She learned a secret long before it was touted by neurologists--exercise can make a difference. And as Jo fought her way back from MS setbacks to where she had been before, she learned every day could be an adventure. But her pastor/husband of 13 years began a two-year affair that devastated her. Then he divorced Jo. Once again she had to fight her way back. This time she learned who she was, and the adventure really began. Jo was learning to Soar Unafraid.
Jo horse-packed into the Rockies with a girlfriend. She traveled alone through Sweden, Norway, and England while using forearm crutches and pulling a suitcase on wheels. Jo worked on an archaeological excavation team in Israel where new friends literally lifted and carried her places she could never have experienced otherwise. She learned to ski using outriggers--shortened skis on crutches. Though Jo could no longer bicycle alone she could ride the back of a tandem. She became a certified peer counselor in 1984 for the National MS Society and a speaker for audiences nationwide where people began requesting her story in print. Life became an adventure daily.
When Jo married again she discovered she was being verbally and emotionally abused. As Ray's frightening intensity triggered Jo's suppressed memories of incest, they healed together while working through their pain, bonding tightly in a marriage of over 21 years. They rode their tandem in five MS Bike Tours for the National MS Society for whom Jo is also a spokesperson. One of those rides occurred merely eight months after Jo suffered a cervical spinal cord injury that should have killed or paralyzed her. She lost her ability to speak for ten months, and that's not all ... Then she completed Soar Unafraid: Learning to Trust No Matter What. Ray and Jo live adventurously every day.
Jo Franz can inspire and teach your audience to:

Find adventure in life no matter what your situation is
Learn to S.O.A.R.™
Know your body so you can live as fully as possible
Learn the friendship secret
Develop relationships that last
Live with MS or other chronic illness adventurously
Soar Unafraid
Jo is a national inspirational speaker for service organizations, conventions, businesses and colleges: Jo Franz Business Speaker
She speaks for women's retreats and conferences, church services, and more: Jo Franz Christian Speaker
Jo's memoir, Award Winning Soar Unafraid: Learning to Trust No Matter What is touching lives. She inspires others to live adventurously and fearlessly no matter what is happening in their lives.
Soar Unafraid Book Website
Contact Jo at 360.687.1376, cell 360.607.2450
# # #