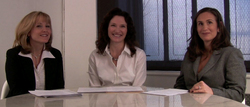 New York, NY (PRWEB) December 1, 2008
Leopard Solutions launched the Leopard Law Blog and Leopard Hot Spot which delivers fresh, current and relevant news that attorneys, law students and legal recruiters can use. Leopard Law Blog is designed to inform professionals about hiring and employment issues and features expert guest writers from the legal recruiting industry, law firms and some of the top law schools in the country. Leopard Law Blog and Leopard Hot Spot are the latest additions to an extensive line of tools designed to create a one-stop destination for attorneys and law students who are looking for information about the legal job market and opportunities. Leopard Solutions also offers a free job board, legal recruiter directory, and video series for attorneys and law students.
In Other News: New Leopard Chat Series for Attorneys
The Leopard Chat video series now offers in-depth video interviews for attorneys and law students. The first interview series features Nancy Zehner of The Artemis Group, Marjorie Grossberg of Major Lindsay and Africa and Laura Leopard all offering valuable advice and suggestions to attorneys who are looking for a new legal job in this competitive job market. They discuss employment concerns in 5 different interviews, and each interview tackles a different topic or question specifically designed for law professionals who have been laid-off, or are currently looking for a legal job.
About Leopard Solutions
Leopard Solutions is a complete resource used by law firms, legal recruiters and law schools to keep informed about the legal marketplace. Leopard Solutions delivers accurate and timely information about attorneys, jobs and law firms in a robust, user-friendly format.
Products include The Leopard List (a search engine of partners, counsels and associates in the major US markets); Leopard Reporting (an overview of the legal landscape that is updated 4 times a year for more of a real-time look at the industry), Leopard Job Search (listing job needs of over 400 law firms nationally and internationally twice a day), Leopard Chat (video series featuring interviews with some of the most innovative and informed law professionals in the industry), Leopard Blog (featuring original content for attorneys and law students), Leopard Hot Spot (a daily legal news feed) and an exclusive FREE attorney homepage (offering research tools, business and hiring solutions for law firms) making Leopard Solutions a one-stop resource for attorneys and law students.
###