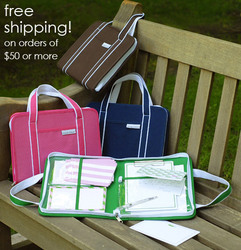 We are so excited to launch this line
Indianapolis, IN (PRWEB) December 2, 2008
Boatman Geller, well known for trend-setting, stationery styles announced the launch of their newest product addition today, the carrie and tuck notetote, perfect for holiday gift giving.
The carrie and tuck notetote is stylish and functional, designed specifically for busy women on the go to keep up with their correspondences. The notetote is filled with coordinating stationery, a clipboard, a contact list and signature pen -- everything needed to keep in touch no matter where you are.
The notetote is available in four colors -- classic navy, chocolate brown, bright pink and kelly green. A variety of ultra-stylish, refill packs are also available, making this the perfect holiday gift.
"We are so excited to launch this line," said Jane Boatman Geller, founder and owner of Boatman Geller. "Personal note writing is important, and with the carrie and tuck notetote, women can keep up with their note writing where ever they go."
Boatman Geller, known the world over for their fashion-forward designs, trend-setting stationery and home decorator products, designed the notetote to be more unique than the traditional, and often-manly totes and portfolios. Boatman Geller designed 12 prototypes in the process of carrie and tuck's creation.
"It was of utmost importance to us to develop an affordable and functional notetote, while maintaining style and uniqueness our customers love," said Geller.
The carrie and tuck retails for $39.00 with refills priced at $19.00. Boatman Geller is offering free standard shipping for all holiday orders of $50.00 or more. For more information on the carrie and tuck notetote, please visit http://www.carrieandtuck.com. To blog about it, visit Boatman Geller at http://www.liveyourstylebybg.blogspot.com.
Editors Note: Carrie and Tuck is a registered trademark of Boatman Geller.
###