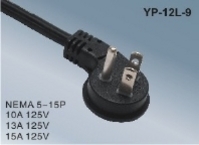 There are so many situations where data center and entertainment system installers must deal with inadequate space between the power outlet and the device they are installing. Our new line of fully UL approved, NEMA 5-15P or NEMA 1-15P standard series plugs provide the thinnest solution out there
Campbell, CA (PRWEB) December 3, 2008 -
Computer, medical, video and industrial equipment installers performing custom equipment installations that require near zero-clearance between power cord, equipment and or a physical structure has an optimum solution from Signal and Power Delivery Systems (SPDS). The Ultra Low Profile power cord plug product line manufactured by SPDS is ideal for installing equipment on equipment racks and in tight spaces, such as data centers, industrial, medical applications, and custom home entertainment centers.
Today, many high-end homes are designed with built-in entertainment centers or theaters that include wall mounted LCD or plasma TVs. Using standard straight-in plugs often require several inches of space between equipment and wall, plus you also need to rout the power cord wire out of the way. Homeowners, as well as anyone wanting to place anything close to a wall outlet finally has a simple solution with SPDS' ultra low profile power cord plugs.
SPDS has introduced both USA 3 prong plugs and USA 2 prong plugs with ultra thin thicknesses. "There are so many situations where data center and entertainment system installers must deal with inadequate space between the power outlet and the device they are installing. Our new line of fully UL approved, NEMA 5-15P or NEMA 1-15P standard series plugs provide the thinnest solution out there," says Ivo Landre, President of Signal and Power Delivery Systems.
This right angle plug also has a clever offset shape to ensure neighboring outlets are not blocked by the plug's strain relief or cord coming out of the plug. Straight plugs require at least 2.5 inches clearance between the wall and device and normal right angle plugs are anywhere between 0.84 and 1.2 inches thick. This new design roughly cuts that in half. "There is no other power cord plug designed for America that is thinner," adds Mr. Landre.
Professional equipment installers pride themselves on clean, easy to manage equipment installations. The polarized and non-polarized two prong versions offer these benefits for the professional installers:
1. Economy of Space - saves space between wall and equipment, furniture, equipment racks or other fixed objects.
2. Professional Appearance - final installation is cleaner and more organized.
3. Lays Flat - get rid of the loop of cord that is typical with standard orientation power cord plugs.
4. Ease of Maintenance - combining right, left and 45 degree angle plugs and custom lengths allows easy routing of power cord wires making installations easier to maintain in the long run.
As a summary and available for immediate shipment are the following Ultra Low Profile Power Plugs:

YP-12L-9 a 3 prong power cord plug built to the NEMA 5-15P standard
YP-11R, a 2 prong power cord plug built to the NEMA 1-15P polarized standard.
YP-11T, a 2 prong power cord plug built to NEMA 1-15P non-polarized standard
So whether you're a major equipment manufacturer looking for custom designed power cords, or just want to install something in your home or office with the cleanest professional appearance, Signal and Power Delivery Systems has the solution.
About Signal and Power Delivery Systems
Signal and Power Delivery Systems (SPDS) is a manufacturer of power cords and plug adapters. SPDS supplies OEM's in the computer, security, wireless, medical, networking, and consumer electronics markets. SPDS offers a complete line of standard and custom power cords and cable assemblies, plastic molded products and virtually any interconnect and power solution. SPDS is firmly committed to providing the finest value for quality, price and service available in the marketplace. For more information, please contact SPDS at (408)871-7828 or visit our web site at Signal and Power Delivery Systems
###