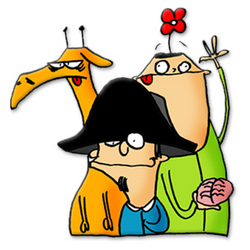 As an educator, I was frustrated by the many websites that are a waste of a child's time
Evanston, IL (PRWEB) December 11, 2008 –
KidzClix.net has announced the launch of its premier online "magazine," designed for children ages 7-12. It is bursting with educational games, enrichment activities, and much more. This translates into hours of creative fun for children at home. Parents of homeschoolers will find it to be a rich resource for learning activities. "It's 'edu-tainment' at its best!" according to Daniel Ostenso, associate professor of Interactive Media at the Illinois Institute of Art in Chicago. As a holiday gift idea intended to inspire and enrich, KidzClix.net is unparalleled.
Each month, subscribers to KidzClix.net receive two new issues loaded with educational games, math activities, science experiments, puzzles, kid's crafts, things to build, chess, cooking, the amazing achievements of other children, and much more. The goal at KidzClix.net is to provide youngsters with activities that "inspire critical and creative thinking, foster originality, and develop imaginations." It's the ideal holiday gift idea that will help children grow throughout the year.
KidzClix.net subscribers can also access KidzConnect, an exclusive networking site designed with children's online safety in mind. Subscribers who choose this optional feature can join in moderated online forums, chat rooms and message boards open only to KidzClix.net members. Here youngsters can connect with other children for homework help, sharing ideas and joining in discussions of interest to kids today. It's a valuable feature for parents who would like more social interaction for their homeschoolers. KidzConnect is compliant with COPPA (Children's Online Privacy and Protection Act) and its diligent staff of moderators makes it a top priority to maintain the safety and security of their members.
The site is a superb holiday gift idea, a way to enrich children by providing them with an array of educational games, math activities, science experiments, puzzles, and kid's crafts developed by educators affiliated with a program with a proven track record of success.
KidzClix.net is the creation of staff members at the Center for Gifted, founded at National-Louis University in Chicago. Since 1983, the Center for Gifted has offered innovative hands-on enrichment programs for school children, including homeschoolers, throughout the Chicago area and currently serves over 4,000 youngsters.
"As an educator, I was frustrated by the many websites that are a waste of a child's time," says Cheryl Lind, an educational psychologist and the founder and president of KidzClix.net. "I wanted to provide a place where kids could have fun as well as grow intellectually." Lind says she was inspired by the thousands of children she has seen benefit over the years from the Center for Gifted programs. "I wanted them to have access to creative, hands-on activities they could enjoy at home," she explained, adding that many of the "meaningful activities" available at KidzClix.net come from the Center's best teachers, including several Golden Apple winners.
Lind joined forces with Mike Gorelick, a web designer and former science teacher, and the two spent the next two years developing the unique learning-based online magazine and networking site. "We are a safer online destination for kids," says Gorelick, vice-president of KidzClix. "There is a real need for quality children's websites, and I believe our graphics, interactivity, and educational content fill that need. Combining these features with structured social networking capabilities makes KidzClix.net cutting edge."
KidzClix.net is a unique holiday gift idea without the hassle of shopping or shipping. Cost for a subscription is $6.95 per month. Three-month, six-month and one-year subscriptions are discounted. When you visit their website at http://www.kidzclix.net , your child can preview a free issue and try over 30 different educational games, experiments, puzzles, kid's crafts and more. Personalized gift certificates are available by calling 888-899-4583.
###