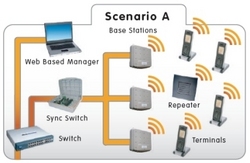 London (PRWEB) December 4, 2008
Coms Plc., a leading provider of internet telephony solutions for Business, today announced the launch of the Coms VoIP DECT System, a fully wireless version of its VoIP business telephony service.
The Coms Wireless VoIP DECT (Digitally Enhanced Cordless Telecommunications) system gives customers crystal clear voice coverage from 300 meters to an area up to 64 Sq kilometres using repeaters and additional base stations. Handset battery life is also dramatically improved, allowing 150 hours of standby and 10 hours of talktime, as well as access to all the usual business telephone system features e.g. call hold, call transfer, voice mail to email, etc.
David Cargill, CTO of Coms Plc states, "The beauty of the system is that it's fully customisable, no matter how simple or complex the area is or the number of users we can now deliver a wireless VoIP DECT business class telephone system with handsets that deliver crystal clear voice communications and 150 hours of standby and 10 hours of talk time."
Ian Connolly, of Fort Box a storage business with offices in Oxford, comments: "Since installing the Coms Hosted VoIP Wireless Telephone system we have cut our telecoms bills in half and doubled the functionality."
The Coms VoIP DECT System System uses a 'Base Station' about the size of a cereal box, which is installed at the user's location and connects to the internet. The Base Station essentially acts as a bridge between the telephone handsets and Coms servers, delivering a wireless signal to the handsets. This means that the service delivers the same benefits expected of a first rate business VoIP service, with the added bonus of increased mobility, ease of installation and more adaptability.
As the Coms service is internet based, any number of locations, including home offices, can be included in the same network, significantly streamlining business communications. Members of staff who move between sites need only take their handset with them. They will be registered on the new site's Base Station as soon as they are within range.
About Coms Plc.
Jason Drummond founded Coms Plc in 2000, with a vision of using the Internet to carry and deliver voice telephone calls.
Coms is one of the UK's leading broadband voice (VoIP) providers. Coms helps businesses succeed by offering simplified voice and data solutions that improve the customer experience, increase employee productivity and cut costs.
Unlike other industry competitors, the Coms solution is based upon the industry standard SIP protocol, which enables the widest possible connection of customers, devices and integrated Web 2.0 applications.
Coms Plc is an OFCOM authorised Public Electronic Communications Network (PECN) and a member of the Internet Telephony Service Providers Association (ITSPA). Coms Plc is also listed on the London Stock Exchange AIM market (LSE:COMS).
Further information can be found at http://www.Coms.Com
###