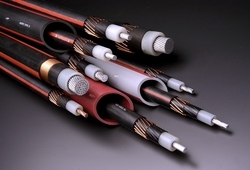 Milford, NH (PRWEB) December 4, 2008
Hendrix Wire & Cable, a premier provider of high quality overhead and underground power distribution products, announces its offering of 15kV to 34.5 kV TRXLP-insulated medium voltage underground cable with several custom delivery options.
Today, with costs escalating, having the "right stuff" in inventory is essential. Through its long-time association with major electric utilities Hendrix Wire & Cable now offers cable supply solutions that provide optimal flexibility to meet customer demand while also meeting the utilities' budgetary objectives. Traditional make-and-ship arrangements are available, however if a more customized delivery method is necessary, Hendrix Wire & Cable will collaborate with customers to develop a delivery method that is best suited to the client's demand profile. A traditional supply agreement is available for long-term clients offering a variety of cable supply solutions, including but not limited to a capacity-plan cycle which allows customers to schedule delivery of varying amounts of underground cable during each month of the year to match seasonal demand; a vendor-managed inventory option, in which Hendrix Wire & Cable makes recommendations based on the customer's forecast usage and on an inventory turnover target or a maximum inventory value and lastly, a rapid-cycle delivery option which is available for high volume products, allowing clients to place orders on an as needed basis for delivery within two weeks time.
Aspects of each delivery option may be combined to create a hybrid cable supply solution that best meets demand profile for high and low volume products. All of Hendrix Wire & Cable supply solutions offer an extremely high on-time delivery rate. Hendrix Wire & Cable can also provide engineering support to assist clients in aligning their cable specifications with industry standards, ensuring that they are specifying the optimal product for their specific application.
Underground cable constructions are available in a variety of options, including: aluminum or copper conductor, full and reduced neutral and in customer specified cut-lengths.
For more information about Hendrix Wire & Cable products and cable supply solutions, please visit http://www.hendrix-wc.com.
About Hendrix's Underground Cable:
Hendrix's Underground Cable Business Unit is one of three operating divisions of Hendrix Wire & Cable, Inc., a premier provider of high-quality overhead and underground power distribution products, located in Milford, New Hampshire. The division's benchmark products are 15kV, 25kV, 35kV tree-retardant cross-linked polyethylene-insulated underground distribution cables.
ISO 9001-certified Hendrix Wire & Cable, Inc. is a member company of The Marmon Group, an international association of more than 125 business units that operate independently within diverse business sectors. Member companies have collective revenues of $7 billion. More information about the company is available at http://www.hendrix-wc.com.
###