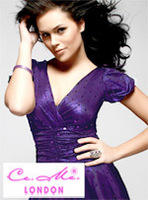 This is a great way to find out exactly what people want. We plan to preview new designs on this page and discuss them with the people we want to be seen wearing our clothes.
London, UK (PRWEB) December 4, 2008
Having supplied boutiques and wholesalers around the world for 20 years with gorgeous party and evening dresses, Ce Me London is now determined to take on the big names by launching their own website to sell 'ahead of trend' clothes direct to the public without a designer pricetag.
In the current financial climate, you'd be forgiven for thinking that smaller clothing designers and manufacturers are clinging to any big wholesale contracts they can. However established designers Ce Me London think that this is just the right time to 'make the break', go public and free themselves from over-dependence on wholesalers.
Even before the Credit Crunch many were being squeezed by the big names.
There is widespread feeling in the industry that wholesalers and high street retailers regularly overstep boundaries and contracts. Manufacturers are pushed to the brink of bankruptcy because of constant demand for cheaper prices and cancelled orders. A common retailer practice is 'white labelling' - that is, changing garment labels to pass off the design as the retailer's own. Designers have had to get used to exclusivity clauses and seeing their garments worn by celebrities and written about by columnists who are oblivious to their origin. Yet the wholesalers show no loyalty to the manufacturers they depend on.
Cheaper prices - but at what cost?
Our high streets were once eclectic but many no longer boast the quirky boutiques and shops that gave the public real choice; today they are dominated by the same names up and down the country. As a result, many women can relate to the embarrassment of turning up to a party to find someone else wearing the same outfit.
Price has been put before quality. Manufacturing in Britain has been on the decline for decades, resulting in fewer quality goods. Production has been pushed out to the Far East, negatively affecting the economy here in the UK and raising other concerns such as poor working conditions and the use of child labour.
It doesn't have to be this way.
The internet revolutionised the recording industry by giving independent artists and labels the means to go direct to their audience. Now designers and manufacturers are realising that they can follow suit. More and more people and businesses go online every day and online sales continue to grow. Awareness is growing that the internet is one of the most cost-effective means of advertising, and business leaders and the national press are leading the call to 'buy British' as a way of helping the country out of the economic slump. Many manufacturers are convinced that now is the right time to fight back and launch their own brands direct to the public.
How do independent designers compete with the high street names?
By not playing their game! The independents can't win a price war, but why try to compete with a brand whose ethos appears to be the opposite of your own? The huge popularity of fashion blogs such as 'The Facehunter' and 'The Sartorialist' show that individual style is still valued. Social websites such as Facebook give new opportunities for designers to interact directly with their potential customers and for ideas to spread quickly.
One label ready to embrace this potential for change is Ce Me London. Previously known only to wholesalers as Chanans, they have seen others take the credit for their ability to forecast the trends for 20 years. Having recently decided to take their brand direct to the public via their website http://www.cemelondon.co.uk, they are optimistic about the coming year.
As co-director Sabi Chahal says, "We think people will be making far more considered decisions about the clothing they buy. Less people will have the money for 'throwaway' cheap dresses. When you're looking for a dress to wear for some time, you'll want to dig a bit deeper than the nearest Primark."
To encourage this search they've also launched the Ce Me London Facebook group. Sabi said,
"This is a great way to find out exactly what people want. We plan to preview new designs on this page and discuss them with the people we want to be seen wearing our clothes."
Anyone wishing to meet Sabi and the team face-to-face and check out their latest collection can also catch them at The Clothes Show Live at the Birmingham NEC until 10th December, where you can also enter their competition to win £250 or £100 designer dress shopping spree.
About Ce Me London:
Ce Me London is the brand name for Morewise Ltd t/a Chanans. Any further interest in the above story or further facts can be attained by contacting us directly.
Contact:
Sabi Chahal, director
Ce Me London
105 Whitechapel Road
Whitechapel
London E1 1DT
Tel - +44 (0)207 375 2224
http://www.cemelondon.co.uk
###