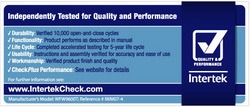 Through Intertek's experiences with manufacturers and retailers around the world, we realized their challenges and concerns are focused on product differentiation, eroding margins, and a more critical and 'value-driven' buyer base
Chicago, IL (PRWEB) December 4, 2008
Intertek (LSE: ITRK), a global leader in testing, inspection and certification services, today announced the launch of its new Quality & Performance Mark (QPM). The Mark offers manufacturers and brand marketers a means to clearly differentiate themselves among competing products. For consumers, it provides much needed trust in quality assurance, as well as offering depth of information for more educated purchasing decisions.
As independent, third-party validation from the world's leading product performance lab, the Quality & Performance Mark substantiates marketing claims and demonstrates that a product has passed a baseline of quality and performance tests.
"Through Intertek's experiences with manufacturers and retailers around the world, we realized their challenges and concerns are focused on product differentiation, eroding margins, and a more critical and 'value-driven' buyer base," said Gregg Tiemann, chief executive, Intertek Commercial and Electrical division. "With the introduction of the Quality & Performance Mark, Intertek responds to the need to demonstrate outstanding performance and distinguish superior products, and as a result, increase revenues."
Testing for the Quality & Performance Mark can validate up to five baseline performance criteria:

Durability - The range of conditions a product can handle and continue to operate as expected.
Functionality - Performance of the product's functions and features under normal use.
Life Cycle - How long the product lasts in normal operation.
Usability - Ease of use for a product's intended tasks.
Workmanship - High quality fabrication of a product.
For further differentiation, a sixth parameter called "CheckPlus Performance" allows manufacturers to test and validate performance and quality claims specific to their product for an added selling advantage.
Manufacturers and retailers can use the Mark to:

Broadcast performance data to customers at the most critical moment: at the point of purchase (online, on-the-shelf, in advertising, or on the product).
Illuminate a product's brand attributes and selling advantages.
Advertise to skeptical buyers that a product does more than promise, it performs.
Secure trust, confidence and loyalty among buyers and influencers.
For more information on the Intertek Quality & Performance Mark, see http://www.IntertekCheck.com.
About Intertek's testing and certification services
Intertek provides testing and certification services for a variety of commercial and electrical products, including product safety testing and certification, electromagnetic compatibility (EMC) testing, performance testing, and management systems certification. These services provide global market access to customers in industries such as automotive, building products, cabling/wiring products, consumer products, food service, furniture, household appliances, HVAC, industrial machinery, IT, lighting, life safety/security, medical devices, power systems, retail, semiconductors, telecom/radio, wireless equipment.
Visit http://www.intertek-etlsemko.com for further information or call +1-800-WORLDLAB (+1-800-967-5352).
About Intertek
Intertek is a leading provider of quality and safety solutions serving a wide range of industries around the world. From auditing and inspection, to testing, quality assurance and certification, Intertek people are dedicated to adding value to customers' products and processes, supporting their success in the global marketplace.
Intertek has the expertise, resources and global reach to support its customers through its network of more than 1,000 laboratories and offices and over 23,000 people in 110 countries around the world.
For further information, visit http://www.intertek.com.
###