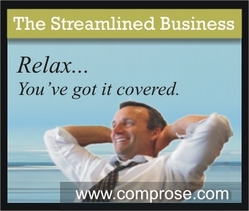 We're all too familiar with the high costs that result when operations aren't streamlined. But who has the time or expertise to systemize their business? We do.
St. Louis, MO (PRWEB) December 5, 2008
COMPROSE, Inc., a company that helps organizations streamline their operations and standardize their businesses, has launched a new series of products and services called The Streamlined Business.
With this launch, COMPROSE is a single-point resource for any organization that wants to put more structure, controls, and business systems into their business and get their operations truly down to a science. The Company's website highlights client success stories including improved performance, faster ramp-up and reduced training costs and streamlined regulatory compliance.
Most managers agree that good systems are essential for improving performance and reducing operating costs. "We're all too familiar with the high costs that result when operations aren't streamlined. But who has the time or expertise to systemize their business? We do." Formal training is often cost-prohibitive. Conventional documenting is difficult and extremely time-consuming. And besides, do you really want to trust your business to an out-dated policy and procedure manual that someone wrote up from stream of consciousness and that no one uses? In today's world of keeping your i's dotted and t's crossed, that's just too risky.
Hundreds of organizations already use COMPROSE's Zavanta software to develop good business systems and standardize best practices. But even with a good tool, many busy professionals still don't have the time to build, implement, and maintain the kind of operational infrastructure they need. The Streamlined Business Program fills that gap.
COMPROSE has created a series of low-cost, low-risk, try it out products and services so that anyone interested in systemizing their business has any number of options -- not just software. No matter what size budget, any organization can get started right way toward building a smarter, more agile, streamlined business. COMPROSE can provide advice, training, and if needed, specialized software. Or, COMPROSE's professional services staff can do it all, delivering to each customer a turnkey, web-enabled operating plan and training system that they can immediately use to manage with, train from, and streamline regulatory compliance.
COMPROSE is launching its new Streamlined Business Program through a series of free webinars about streamlining operations and employee training.
Since 1987 COMPROSE, Inc. has worked with hundreds of organizations to streamline and significantly improve their operations. Through The Streamlined Business Program, COMPROSE puts the right kind of structure, controls, and training systems into organizations that enable them to streamline business processes, train employees faster, and standardize operations. The Company provides a proprietary methodology as well as specialized software, training, and professional services.
COMPROSE's Operations Mapping is a management strategy and proven method for systemizing any process, area, or organization. Zavanta is a specialized software tool that enables anyone to design, capture, and communicate clear business systems, processes, policies and operating procedures.
The Company also hosts a number of blogs about systemizing operations, corporate training, and policy and procedure development.
###