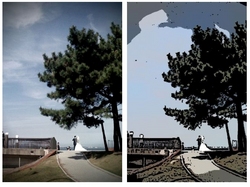 I believe that just as we moved from voice to text we will see a movement from text to visual communications
Seattle (PRWEB) December 4, 2008
Since the release of its first iPhone application in July 2008, Big Canvas, a Seattle-based technology firm, has introduced a suite of creative applications that are creating a new visual communication medium and transforming how people communicate.
Two of the newest applications, OilCanvas and PhotoArtist, turn iPhones into artistic devices with which users can create and share their own masterpieces.
"I believe that just as we moved from voice to text we will see a movement from text to visual communications," said Big Canvas CEO Satoshi Nakajima. "With our applications, anyone can be an artist and everyone can share their experiences through pictures. We call it 'Life-logging,' which enables the visual sharing of daily experiences and ideas with the world."
Through PhotoArtist, which allows iPhones to function like Photoshop without dependency on a desktop or laptop computer, users create artwork by selecting an image from their iPhone library or taking their own original photo. After selecting the photo, users choose one of six different filter effects, including illustrations, watercolors, cartoon and halftone filters. PhotoArtist's simple technology ensures that anyone with an iPhone can be an artist.
OilCanvas allows users to create or personalize artwork by first selecting an image they capture or previously saved to their iPhone library. After selecting an image to serve as the base picture, users choose a brush and paint with their fingers. OilCanvas eliminates confusion and simplifies art by automatically locating the paint color from the imported base picture.
OilCanvas and PhotoArtist encourage creative expression on the go and can be saved or shared with thousands of others in Big Canvas' PhotoShare community.
PhotoShare is a community that allows users to stay connected and in touch with their network, public or private, by instantaneously uploading images from their iPhone. Each subsequent application builds on the life-logging technology introduced by PhotoShare. The PhotoShare application is available free on Apple's App Store. PhotoShare has quickly gained a considerable worldwide audience since becoming available for download on Apple's App Store in July 2008.
Well-known Japanese mobile device entrepreneur Satoshi Nakajima founded Big Canvas in 2008 and developed PhotoShare to fill what he saw as a missing piece of the current mobile communications landscape. The start-up software and web service company is headquartered in Bellevue, Washington.
Nakajima brings his expertise and experience developing for the Microsoft platform to his new role. Before Big Canvas, Nakajima created the world's first CAD software for the PC, and led the Windows 95 development team at Microsoft.
Big Canvas' applications for the iPhone are a visionary series of web-based "creativity tools" that allow anyone with creative spirits to participate in the Internet Renaissance. For more information or to download PhotoShare, visit http://bcphotoshare.com/.
Media Contact:
Leah Motz, Nyhus Communications LLC for Big Canvas Inc.,
(206) 323-3733, leah at nyhus dot com
###