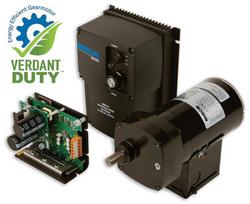 Our customers require more efficient products and being able to utilize three phase over single phase fractional horsepower gearmotors provides an immediate payback in reduced energy consumption with improved efficiency
St. Charles, IL (PRWEB) December 4, 2008
Electric motors consume from 63% to 70% of the electricity used in American manufacturing. However, most motor efficiency efforts to date have focused on less than 10% of the total electric motor population: those motors greater than one horsepower. In response to customer desires to increase efficiency in equipment employing fractional horsepower electric motors, Bison Gear & Engineering Corp. introduces its new 107 series Verdant Duty™ gearmotors in 5 standard, off-the-shelf models. Rated at 1/20 horsepower (37.3 watt) at 230 volt, 60 Hz, 3-phase, they feature an operating range from 6 to 90 Hz to provide a 15:1 range of adjustable output speeds in applications requiring no maintenance.
The gearmotors feature totally enclosed, non-ventilated (TENV) AC motors constructed with special insulation systems to ensure long life when driven by compact, economic frequency inverters that convert conventional AC single phase to three phase power. Employing integral gear reducers with gear ratios from 6.7:1 to 95.5:1 they offer output speeds from 368 to 1.7 RPM with output torques up to 100 in-lbs. (11.3 N-m).
"Our customers require more efficient products and being able to utilize three phase over single phase fractional horsepower gearmotors provides an immediate payback in reduced energy consumption with improved efficiency," said Matt Hanson, Bison Gear VP, Portfolio Management. "These new Verdant Duty™ products are a wise choice for variable speed applications, such as packaging equipment, machine drives and conveyors. Used in conjunction with Bison's matched inverter drives, customers can also increase their process efficiency and control by employing such features as adjustable acceleration and deceleration, minimum and maximum speed levels and current limiting, as well as DC injection braking."
The new Verdant Duty™ gearmotors will be introduced at the annual meeting of the Illinois Manufacturers' Association (IMA) at the Hotel InterContinental in Chicago on December 5. "Environmental Sustainability" is a key topic on the agenda. With over 4,000 members, IMA is the oldest and largest state manufacturers' association in the U.S.
The RoHS compliant gearmotors feature UL, cRUus and CE recognition and are supported by Bison's Innopreneurial™ application and design engineering capabilities to customize standard models to meet specific OEM needs. Customers' shortened supply chain requirements are fulfilled by the units being manufactured in Bison Gear's St. Charles, Illinois facilities to the highest quality standards to ensure dependable, long-life operation.
Bison Gear's Green Initiatives
Bison Gear has reduced its own electric energy consumption by 30% in the past year by working with Greenworks Energy Solutions to improve power quality and increase the efficiency of existing equipment and installing high efficiency lighting among other steps. Bison's cardboard packaging is made from recycled content linerboard and its corrugated packaging is 100% recyclable. Bison Gear is dedicated to sound environmental practices and works with its suppliers to ensure the paper used in Bison's corrugated packaging comes only from responsibly managed forests that are sustainable natural resources. Bison's shrinkwrap packaging is 100% recycled and recyclable. All of Bison's shipping pallets are made from recycled wood and Bison strives to recycle all pallets received from its suppliers.
About Bison Gear & Engineering Corp.
Founded in 1960, Bison Gear & Engineering Corp. designs and manufactures fractional horsepower electric motors, gearmotors and gear reducers used in industrial and commercial OEM applications worldwide. Bison's strong engineering tradition, based on Robusticity™ principles, offers products with up to twice as much torque in the same package size as competitors. Bison employs over 270 associates in its St. Charles, Illinois facility which produces gearmotors and reducers in parallel shaft and right angle configurations, as well as AC and DC electric motors, for applications where dependability and long lifetimes are important.
###