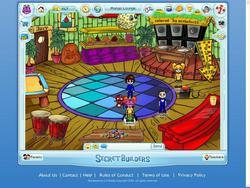 SecretBuilders' investors, all of whom have children or grandchildren in the target age range, are dedicated to the mission of emphasizing arts and humanities in the lives of our kids
Menlo Park, Calif. (PRWEB) December 4, 2008
SecretBuilders, a Silicon valley startup, today announced the launch of Secretbuilders.com, a virtual world with an emphasis on creativity and historical adventure for children 6 to 14 years old.On SecretBuilders, children are exposed to stories and concepts from the arts and humanities as they interact and play among fictional and historical characters including Shakespeare, Sherlock Holmes, Galileo and Socrates.
The site has been available in a test version to students of select San Francisco Bay Area schools since late summer. The early adopters generated word-of-mouth recommendations and a fan video on YouTube that has drawn thousands of members from 41 states and 28 countries.
"It's cool," said Clay, a 10-year old SecretBuilders member from New York City. "I recommend it!"
"I played for two days and liked it so much, l went and presented SecretBuilders at my school" said Tanya, a nine-year-old member from Glasgow, Scotland. "All my friends loved it and my teacher loved it too!"
"It's awesome -- really creative!" said Sophie, a nine-year old member from Pleasanton, Calif.
What makes the site different is how it attracts children to its entertaining elements while exposing them to literary and cultural concepts and characters. Typically, children's web sites such as Club Penguin and Webkinz offer pure entertainment but little nutritional value - like fudge - while educational sites try to sugar-coat skills-building programs but lack real appeal - like chocolate-covered broccoli.
"SecretBuilders is neither fudge nor chocolate-covered broccoli - it is more like Cheerios, both appealing and nutritious," said SecretBuilders CEO Umair Khan. "As a parent, I appreciate that my children can enjoy a visually rich, interactive social community set within an adventure game world that helps build cultural literacy," added Khan, a parent of children ages 8, 10, and 14 and a former high school math teacher.
The site has earned kudos from educators.
"My son really enjoys the web-site and visits it very regularly. Thank you for a wholesome and educational online diversion," said Chris Immesoete, a fifth-grade teacher at Green Elementary school in Dublin, Calif.
Popular among the players are creative contests with real world impact. In an art contest, kids used online drawing tools to paint Mango Lounge, a hotspot within SecretBuilders. The winning entry became the permanent colors of the lounge, underscoring how children are stakeholders in building SecretBuilders. The latest contest, sponsored by Wild Planet Toy Company, invites children to come up with new toy concepts. The winning entry will become a virtual toy available for sale within the site's virtual economy, and the inventor will win a cash prize.
In addition, children enjoy quests that expose them to classic books such as "Treasure Island" and "Alice in Wonderland". Other favorite activities include getting published and commenting on other players' submission in "The Crooked Pencil" online magazine, hovering around famous art work in Frank 'n' Stein's Gallery, ordering slimy treats at the Weird Brew Caf(run by the Weird Sisters characters from "Macbeth"), chatting with Sherlock Holmes and visiting Copernicus' home to take a challenge quiz.
SecretBuilders' partners -- including Art in Action, The Monterey Bay Aquarium, Wild Planet Entertainment and Stone Soup magazine -- host features, contests, and activities within SecretBuilders.
Children also get involved in charity drives. A One-for-All section allows players to raise money for their schools by answering math, English and general knowledge questions.
SecretBuilders has raised a total of $2.4 million to date from angel investors. The most recent funding closed after the financial crisis in October, providing a testament to the appeal of its vision and early success with children and parents. Investors include Jeff Webber, former board member of Sybase and Commerce One, serial entrepreneurs Greg Titus and Carlos Cashman, whose company CourseAdvisor was acquired by The Washington Post Company in 2007, Ken Morse, the head of the MIT Entrepreneurship Center and Scott Hassan, co founder of eGroups and member of the Google founding team.
"SecretBuilders' investors, all of whom have children or grandchildren in the target age range, are dedicated to the mission of emphasizing arts and humanities in the lives of our kids," said Hassan, who also founded of Willow Garage in Menlo Park, Calif. He was attracted to the "doing well by doing good" aspect of SecretBuilders, Hassan added.
Analysis firm eMarketer estimates that 24 percent of the 34.3 million child and teen Internet users in the U.S. used virtual worlds on at least a monthly basis in 2007. By 2011, 53 percent of them will be going virtual, eMarketer predicts.
"There are two web trends that are addressing this market: massively multiplayer game worlds and web 2.0 social communities," said Webber, who also sits on SecretBuilders' board. "SecretBuilders stands at the intersection of these two trends. And that is a very exciting place to be."
About SecretBuilders:
SecretBuilders is a virtual world with an emphasis on creativity and historical adventure for children 6 to 14 years old. Children live and play among fictional and historical characters and learn concepts from the arts and humanities. They take quests, publish artwork and writings, play scores of casual games, enter contests and participate in an extensive virtual economy and social life. Children are also given the tools to build out this virtual world with their own ideas, activities and actions. The company is headquartered in Menlo Park, Calif. For more information, visit http://www.secretbuilders.com.
###