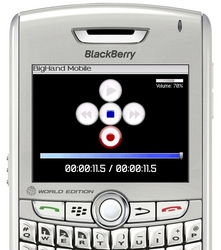 London, UK (PRWEB) December 5, 2008
BigHand has today announced that leading planning and property consultancy firm Alder King has implemented the BigHand Digital Dictation workflow system, incorporating 200 users across 7 offices throughout South West England. In addition, partners and surveyors with BlackBerry Smartphones are now able to record dictations remotely via the BigHand Mobile (BlackBerry Edition) application, and instantly submit to office based secretarial support for transcription.
Prior to the implementation of BigHand technology Alder King used analogue tape dictation equipment, but found tapes would pile up and the sound quality of dictation was poor. While using BigHand, dictations are now submitted as and when recorded, rather than being held up on a single tape, resulting in much faster document turnaround times. Secretaries are also able to pick up each other's dictations, helping out when colleagues are busy or away from the office, ensuring deadlines are met and high levels of client service maintained.
BigHand Digital Dictation for BlackBerry has removed the need for surveyors to carry expensive additional dictation hardware when working remotely and the ability to record, edit and instantly submit dictations via BlackBerry has helped to significantly improve document turnaround times.
Sarah Tuffney, Partner at Alder King comments on her use of BlackBerry dictation:
''I use BlackBerry all the time when out of the office. It allows me to dictate from home and on site and transmit the files back to the office for my secretary to type up that instant. In most cases I can return from an inspection and my site notes are already typed up.
I went to a meeting in Germany, dictated the minutes in the airport on the way back and they were typed when I got to the office the next day and I sent them straight out. Our ability to be responsive to clients has certainly been enhanced.''
Robert Durie, Partner at Alder King further comments:
''The BigHand system is a real plus for my working style. Since the implementation of BigHand on my BlackBerry I have become more efficient, with its instant transmission being the key.''
In the current economic climate an increasing number of property firms are implementing BigHand technology to ensure operational efficiency is maximised, and any unnecessary hardware or temporary cover costs are removed.
About BigHand
BigHand is based out of Chicago, London, Sydney and Toronto. BigHand is the leading digital dictation vendor in the global professional services sector. BigHand3 was awarded 'Best of Breed System of the Year' at the Legal Technology Awards for 2008, and BigHand Mobile (BlackBerry Edition) was voted 'Mobile Product of the Year' at the CNET Business Technology Awards 2008. BigHand has also been nominated in the Sixth Annual Law Technology News (LTN) Awards for 2009 as 'Dictation System of the Year' and 'Mobile Tool of the Year'. Further information is available at http://www.bighand.com
###