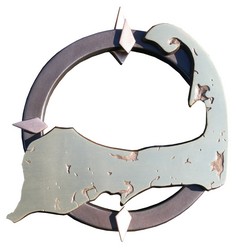 We're thrilled to expand our selection of high-quality door knockers
Hyannis, MA (PRWEB) December 5, 2008
The Cape Cod Weathervane Company, today announced the introduction of three new hand-cast door knockers, the Cape Cod Door Knocker, Martha's Vineyard Door Knocker, and Nantucket Door Knocker. Recognized for its distinct selection of hand-crafted copper weathervanes and fine architectural accessories, the company's product expansions arrives suitably in advance of the upcoming holiday season as home owners focus on small, noticeable and affordable decorating enhancements.
These Doorknockers were selected for its quality and durability, complementing the company's characteristic New England style. The hand-finished hardware lines are available in two finishes: Polished Yellow Brass and Nickel Silver with a dark bronze compass ring and red brass compass points.
"We're thrilled to expand our selection of high-quality door knockers," states Russell Cazeault of The Cape Cod Weathervane Company. "Through regular and consistent product introductions, The Cape Cod Weathervane Company strives to become the first and only exterior detailing choice for homes and businesses nationwide."
Showroom hours are extended during the holiday season, open 10:00 AM through 3:00 PM Saturday December 6th, 13th and 20th. All orders of $99 or more receive free shipping. Holiday gift certificates are also available both online and at the company's showroom.
For detailed driving directions or more information about The Cape Cod Weathervane Company, visit http://www.capecodweathervanecompany.com
About The Cape Cod Weathervane Company
The Cape Cod Weathervane Company, a privately owned copper and garden accessory retailer, offers a wide variety of high-quality copper weathervanes, weather instruments, finials, cupolas, door knockers, address plaques, mailboxes and fine exterior décor for homeowners, developers and businesses nationwide. The company is recognized for its superior customer service and its meticulous attention to style and quality.
###