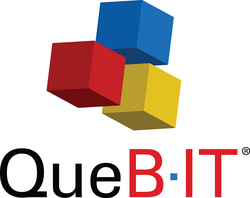 A strong product development strategy will play an important part of the goals of the growing and evolving QueBIT organization
New York (PRWEB) December 8, 2008
Creeth Richman and QueBIT are Platinum Partners of Cognos, an IBM Company. Creeth Richman specializes in the Cognos TM1 platform delivering world class solutions to a wide variety of clients which include many in the Fortune 500. Since its inception over 20 years ago, Creeth Richman has been led by founder Richard Creeth, whose team is recognized as one of the foremost group of experts in the world of TM1. The combination of QueBIT and Creeth Richman represents an organization ideally positioned to deliver complete Financial Performance Management and Business Intelligence solutions.
Gary Quirke, CEO of QueBIT notes, "… this depth of expertise with the full range of Cognos/IBM products establishes a significant competitive advantage for QueBIT. We've brought together two outstanding teams that share a common passion for innovation and commitment to customer success. By adding one of the strongest Cognos TM1 Groups in the industry to an already strong Financial Performance Management and Business Intelligence team, we have further solidified our position as the experts in Performance Management".
Along with expertise in the Cognos TM1 product, Creeth Richman adds significant technical breadth and depth to the QueBIT team. Included with the acquisition are two "Powered by Cognos" software products, OLAPObjects and TM1 Consolidations. These products were developed by Creeth Richman and have been sold since 2000. "A strong product development strategy will play an important part of the goals of the growing and evolving QueBIT organization", adds Quirke.
Richard Creeth comments: "Performance Management is increasingly the focus of customers today. At Creeth Richman, we have always prided ourselves on gaining a deep understanding of our clients business problems and helping them find a superior solution using technologies such as Cognos TM1. This is a philosophy that QueBIT shares and will continue as a key tenet in the combined organization that will be one of the most highly skilled and respected in the industry."
The acquisition of Creeth Richman is part of a wider goal to help companies navigate through the difficulties that are being presented by the current global recession. Gary Quirke adds, "If there was ever a time to invest in financial performance management and business intelligence software to gain a competitive edge, that time is right now. In these turbulent economic times, successful CEO's and CFO's see through the market chatter, use it as an opportunity to invest and turn to QueBIT as a partner to help guide them through the hype and hysteria. This latest acquisition of Creeth Richman brings us one step closer to providing the total solution to meet our clients' needs."
ABOUT QUEBIT
Specializing in providing Cognos Financial Performance Management and Business Intelligence solutions throughout North America, QueBIT empowers companies to make intelligent decisions faster. To find out more information on how QueBIT can work with your organization to achieve results, please contact us at 1 800-QUEBIT1, email us at contact(at)quebit.com, or visit our website: http://www.quebit.com
###