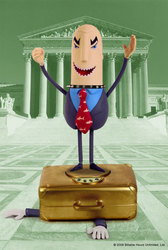 the best of the best
Los Angeles, CA (PRWEB) December 5, 2008
We call them sharks, pit bulls, legal eagles and legal beagles but love one or love to hate them all, we do call them and now, just in time for the holidays, we can even adopt a lawyer!
"My Pet Lawyer" ($34.99) is your very own remote-controlled personal pit bull on an electronic leash, laughing, growling and making friends and family howl with eyes flashing and hilariously lashing out with any one of nine prerecorded messages from "You talkin' to me, sharkbait?!" to "Pro Bono? Never heard of him!" And once you begin personalizing your Pet Lawyer by recording your own words or song into his mouth, there's no limit to the fun you'll find at the push of a button! Adopt a whole "firm" of Pet Lawyers and you could have them singing harmonies like the Supremes or, if you prefer, like the Supreme Court!
Where have you already seen "My Pet Lawyer?" Well, besides finding him at http://www.mypetlawyer.com and in selected stores and gift catalogs, you may have caught him featured recently as "Cool Executive Toy" on CNBC's popular "Power Lunch" show! The sophisticated New York Lifestyle Magazine, "Gotham," promises to bring only "the best of the best" to its readers so it's only natural that you'll find "My Pet Lawyer" prominently featured in their "Best Gifts to Give a Mogul-in-the-Making" column!
And in a profession that's been the butt of enough jokes to fill a law library, even the American Bar Association Journal has raised "no objection" to "My Pet Lawyer," pleading that this fun gift is guilty as charged as a "must-have toy" for the lawyer who has everything!
"My Pet Lawyer" is owned and produced by Billable Hours Unlimited, Ltd.. Five percent of the net profits from sales made directly through the http://www.mypetlawyer.com website will be donated to Voice for the Animals and used for the rescue and adoption of homeless pets.
FOR MORE INFORMATION, PLEASE CONTACT:
Kim Jakwerth, Marleah Leslie & Associates
(323) 464-9669
Rebecca Black, Marleah Leslie & Associates
(323) 464-9669
###