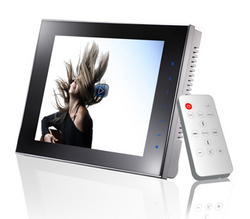 We are pleased to build on our longstanding relationship with Photobucket and offer our customers access to the premier site on the Internet for storing and sharing photos and videos
McLean, Virginia (PRWEB) December 8, 2008
PF Digital Inc., makers of the acclaimed eStarling Wi-Fi picture frame, today announced that Photobucket (http://photobucket.com), the premier standalone photo and video sharing Web site, will now serve as the preferred photo and video hosting provider for the company's new eStarling ImpactV Wireless Clip Frame.
The eStarling ImpactV is the world's first wireless clip frame, providing all the benefits of a digital photo frame while taking the user experience to a new level by allowing users to receive and play DVD-quality video clips.
ImpactV owners are encouraged to sign up for a free account on Photobucket so they can send photos and videos directly to their digital photo frame. Photobucket has over 45 million unique users worldwide and offers a variety of integrated features which makes uploading, editing and sharing photos and videos fast and simple.
Users can also log into eStarling's frame management site to control which Photobucket photos and videos will appear on their ImpactV frames. Additionally, any photos or videos uploaded directly to the eStarling web site can be automatically transferred to the consumer's Photobucket account.
"We are pleased to build on our longstanding relationship with Photobucket and offer our customers access to the premier site on the Internet for storing and sharing photos and videos," notes Jeff Luo, founder and CEO of PF Digital Inc. "Our customers can now enjoy the many benefits of our eStarling ImpactV product while knowing that their images and videos are stored seamlessly, securely and reliably at Photobucket."
"Photobucket is committed to supporting new and innovative ways for its users to share their photo and video memories, both on and off the computer," said Alex Welch, president, Photobucket. "Photobucket is committed to being where our users are beyond the desktop to make photo and video sharing easy and this partnership anticipates our users' needs as video sharing becomes more popular. The eStarling ImpactV is an innovative, first of its kind wireless frame that plays videos and Photobucket is dedicated to support the many ways that people share memories."
How the eStarling ImpactV Works
Each eStarling ImpactV frame has its own dedicated email address, allowing photos and video clips to be sent wirelessly to an eStarling ImpactV frame from anywhere in the world.
The ImpactV can also receive photos and videos from RSS feeds. Owners of the ImpactV must have a Wi-Fi wireless network in their home or office in order to tap into the power of the ImpactV.
Strong demand for a better way to share mobile phone video coupled with the growing popularity of sharing photos and videos as a way to stay in touch with friends and family has been fueling demand for the eStarling ImpactV. It's as easy as snapping a video of the kids playing soccer and sending that video clip directly to their grandmother's ImpactV frame on the other side of the country.
The eStarling ImpactV is also finding a niche with younger audiences who are enjoying a new way to share movie trailers, funny web videos, music videos, sports video clips and online video feeds with friends.
About Photobucket
Photobucket is the largest standalone photo and video sharing site , with over 45 million unique users* around the world linking billions of personal photos, graphics, slideshows and videos daily to hundreds of thousands of Web sites, including Bebo, Blogger, Craigslist, eBay, Facebook, Friendster, Hi5, MySpace, Orkut, Xanga and many others. In addition to linking content, Photobucket users share their personal digital media by email, instant messaging, and mobile devices. Every day, over 11 million personal photos, graphics and videos are uploaded to Photobucket for sharing with family, friends and the online world. The company actively moderates content to create a safe environment for its users, partners and advertisers. Photobucket has offices in San Francisco, California and Denver, Colorado and is located online at http://photobucket.com. For the latest feature announcements and news, please visit the Photobucket blog at http://blog.photobucket.com.
*comScore Media Metrix, October 2008
About PF Digital Inc.
Headquartered in McLean, VA, PF Digital, Inc., is an emerging leader in promoting a complete social networking experience in the comfort of your home, away from the computer.
The combination of eStarling's industrially designed, top-quality hardware with a powerful Web-based photo-sharing and video-sharing application produces a unique experience for consumers that brings friends and families closer together. More information is available at http://www.eStarling.com.
Media Contacts
For PF Digital Inc.
Jessica Odenbach
Walker Sands Communications
http://www.walkersands.com
312-265.3090
jessica.odenbach at walkersands dot com
For Photobucket:
Talia Yates
Fox Interactive Media
310.969.7145
Talia.yates at fox dot com
# # #