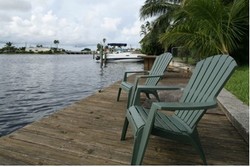 North Palm Beach, FL (PRWEB) December 8, 2008
C.A.R.E. Addiction Recovery has launched a unique new opiate detox program that combines medical intervention, drug rehab counseling and the alternative addiction treatment therapies that have made the drug rehab center and alcohol detox program a leader in holistic addiction treatment.
"While those who use opiate drugs like Oxycotton, heroin and Percocet develop a physical dependence on them, addiction is really a disease of the thinking process. The underlying issues of substance abuse must be addressed to ensure long-term recovery, " said Dr. Mitch Wallick, Executive Director of C.A.R.E. Addiction Recovery.
Unlike traditional medical detox settings, patients in the C.A.R.E. Counseling-Enhanced Detox immediately begin the cognitive therapeutic process. Dr. Romanos employs Suboxone and Subutex to reduce the symptoms of opiate dependence and ensure physical comfort during the detoxification process.
Patients in the C.A.R.E. Day/Night with residential drug rehab program can simultaneously receive detoxification treatment, eliminating the additional expense of 10 to 14 days in medical detox, while those who live locally with jobs and stable home environments can detox and receive counseling in the evening.
Patients in either track will receive the full benefits of the intensive drug rehab program offered at CA.R.E., including group meetings, individual counseling, acupuncture treatments, and use of exercise facilities, the swimming pool and private fishing lake.
C.A.R.E. Addiction Resources is located in North Palm Beach, Florida. Founded by Dr. Mitch Wallick who holds with Ph.D.'s in Counseling and Addictions, C.A.R.E. employs holistic healing modalities and endeavors to treat the underlying psychological factors that predicate addictions. In ad dition to alcohol and drug rehab programs, C.A.R.E. has had enormous success applying these same principles to those suffering from eating disorders like anorexia, bulimia, or over eating as well as gambling addiction, sex addiction and Internet addiction. Additional information at http://www.careflorida.com or by calling 866-494-0866.
###