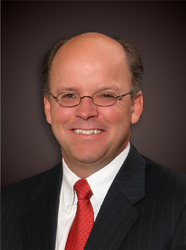 The addition of Paul provides additional depth to our management team and positions Jackson Healthcare to take advantage of the multiple business opportunities created by the current economic conditions
(Vocus) December 9, 2008
Alpharetta, GA (PRWEB), December 9, 2008. Jackson Healthcare (JH) announced that Paul D. Foster has joined the executive team of Jackson Healthcare. At Jackson Healthcare, he will be responsible for mergers and acquisitions, strategic relationships and new business ventures.
"The addition of Paul provides additional depth to our management team and positions Jackson Healthcare to take advantage of the multiple business opportunities created by the current economic conditions" stated Richard L. Jackson, Chairman and CEO of Jackson Healthcare.
Prior to joining Jackson Healthcare, Mr. Foster was the President of O'Grady Peyton International, the international division of AMN Healthcare. Mr. Foster has also held senior positions at GE Capital Real Estate, Booz Allen & Hamilton in New York City and Westpac Banking Corporation in Sydney Australia.
Mr. Foster graduated Beta Gamma Sigma with an MBA from the Graduate School of Business, Columbia University in New York City. He also received his BA from Columbia College, Columbia University.
About Jackson Healthcare
Founded by healthcare pioneer Richard L. Jackson, Jackson Healthcare addresses the two biggest challenges facing healthcare today: finding the right people and delivering the right information at the right time. The JH family of companies provides clinician staffing, anesthesia management and healthcare information technology solutions proven to improve clinical and financial outcomes and increase operational efficiency.
With over 400 associates in Alpharetta, Ga., and a total of 600 nationally, JH serves more than three million patients in some 1,000 hospitals each year. With a 53-percent compound annual growth rate between its founding in 2000 and year-end 2007, the company ranked seventh on Atlanta Business Chronicle's "Pacesetters" list of Atlanta's fastest-growing companies in 2007 and 2008. JH was ranked the 5th largest Healthcare Staffing Company by Staffing Industry Analyst Report in October, 2008. JH also was named to the Inc. 500 list in 2004; to the Inc. 5000 in 2007 and 2008; and as one of "Atlanta's Best Places to Work" by the Atlanta Business Chronicle in 2007 and 2008. The firm's operating entities include: Jackson & Coker, Jackson Hospital Affiliates, Jackson Therapy Partners, LocumTenens.com, Parker Staffing Services, Patient Placement Systems, Premier Anesthesia, StatCom, and Travel Nurse Solutions.
Contact:
Bob Schlotman
(770) 643-5697
http://www.jacksonhealthcare.com
###