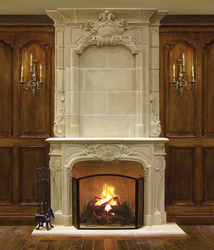 Over time, mantels have been given many names - cast stone fireplace, stone fireplace surround, and stone chimney piece. Regardless of the vernacular, our hand-carved fireplaces are among the most intricate, elaborate and sculpturally correct European designs in the world
(PRWEB) December 9, 2008
Veranda Magazine, the City of Beverly Hills and Friends of Greystone have come together to restore the historic Greystone Mansion Estate. Built between 1927 and 1928, and originally owned by the Doheny family, Greystone has become an architectural icon in Beverly Hills. It is one of the few great family homes in California still standing, and has been fittingly dubbed "The Great House".
Twenty-five of the top nationally and internationally renowned designers were handpicked to redesign the interiors and exteriors of the Greystone Estate. Tartaruga Design Inc. was personally selected to showcase their beautiful Bourges Mantel finished in honed Charmot in this unique design collaboration. Proceeds from the event go the Friends of Greystone, a volunteer organization dedicated to preserving Greystone Mansion and Park, for the restoration of Greystone Estate.
About Tartaruga Design Inc. (http://www.tartarugadesign.com) - For fifteen years, Tartaruga has brought its custom and standard hand-sculpted mantelpieces to families and projects all over the world. They can create anything that can be imagined using skilled practices that have been handed down over generations. Their exquisite fireplace mantel designs have shipped world wide to places such as Europe, Australia, and Bermuda. In North America, their mantelpieces can be found in cities such as Toronto, Calgary, Atlanta, Dallas, and states including Florida, Texas, New York, Georgia and California. Since its' founding in 1994, Tartaruga Design Inc. has been supplying discerning homeowners and design and building professionals across the globe with the most distinctive collection of hand-sculpted mantel pieces and architectural detailing available.
Tartaruga Design was founded by Italian born sculptor Luca Savazzi. Born in Milan, Luca returns to Europe on a regular basis to expand his knowledge of architectural history and stonework. Luca has over twenty years of design and sculptural experience in bronze, stone, wood and clay. His inspirational studies of art and architecture in Italy, France, Holland, Spain, Portugal, Austria, and the United Kingdom are evident in the timelessness of his design drawings and sculptural work.
"Over time, mantels have been given many names - cast stone fireplace, stone fireplace surround, and stone chimney piece. Regardless of the vernacular, our hand-carved fireplaces are among the most intricate, elaborate and sculpturally correct European designs in the world" explains Luca Savazzi. Luca regularly travels the world in search of inspiration for the most original mantelpiece collection available.
Being founded by a sculptor with a background in stone carving gave Tartaruga Design a distinctive difference in the industry. Tartaruga was the first North American mantelpiece company to offer both hand-carved stone and hand-cast Cortina Stone™. This objective position in the marketplace allows Tartaruga Design to give its clientele an unbiased opinion as to what materials will be appropriate for their unique projects.
To this day, Tartaruga remains truthful and respectful to their centuries-old craft by using only the finest materials and techniques in their process. Every piece is designed and sculpted in Tartaruga's' own studio, by their craftsmen, through disciplined execution of old world techniques. Carefully researched and impeccably crafted, their timeless designs and sculptural expertise have become the industry's benchmark for value and excellence.
For more information regarding Tartaruga Design, please visit http://www.tartarugadesign.com or call 1-877-762-0418.
###