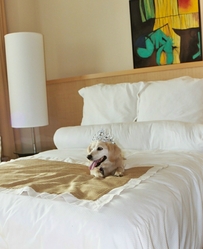 Marley & Me Miami Dog Days
Miami, FL (PRWEB) December 10, 2008
Guests of Mandarin Oriental, Miami can follow in the footsteps and paw prints of Marley & Me characters John (Owen Wilson), Jenny (Jennifer Aniston) and Marley with an interactive guest and pooch getaway that offers a luxurious adaptation to the spirited movie storyline. In celebration of the premiere of Marley & Me on Christmas Day, Thursday, December 25, and the movie's filming in the Miami area, Mandarin Oriental, Miami introduces "Marley & Me Miami Dog Days" package, including special pet accommodations, gourmet dining and play sessions with a pet butler.
"We are delighted to have been involved in the filming of this uplifting movie," said Guilherme DeMelo, Chief Concierge. "We look forward to providing a pleasurable experience for our four-legged guests and their owners."
The "Marley & Me Miami Dog Days" package has "gone to the dogs" with the following exciting benefits:

Luxurious accommodations for two-nights with American breakfast
Pet accommodations including a plush pet bed, a bone-shaped place mat with food and water bowls, special edible treats and bottled water
One-on-one Training Date with certified dog trainer
Afternoon fun on the hotel's South Lawn with dog butler services to assist in delivery of refreshments and play items such as frisbees, tug ropes and balls
Two-course, in-room dinner for guests and pet
Once-daily pet walking services around the island of Brickell Key
Two Marley & Me movie tickets
Copy of Marley & Me book by Josh Grogan
Rates for this package based on a two-night stay begin from $1298 from December 1, 2008 through April 11, 2009. From April 12, 2009 through May 23, 2009 and October 1, 2009 through November 25, 2009, rates are from $1138. From May 24, 2009 through September 30, 2009, rates are from $858. This package is subject to availability and exclusive of tax.
Room reservations require a $200 deposit upon check-in for special deep cleaning of the room, of which $100 will be returned upon check-out. Pets are welcome in public areas of the hotel (excluding restaurants, spa, pool and beach areas) and in the spacious guest rooms and suites.
For more information or reservations, please contact reservations directly at (305) 913 8383 or visit Mandarin Oriental, Miami's website at http://www.mandarinoriental.com.
Contemporary in design and with a prominent waterfront location on Brickell Key, Mandarin Oriental, Miami features a private beach, infinity-edge pool, holistic spa, two high-energy restaurants, a dynamic cocktail lounge and martini bar, extensive meeting and business facilities and Miami's most spacious rooms and suites, offering dramatic views of the bay and ocean.
Mandarin Oriental Hotel Group is the award-winning owner and operator of some of the world's most prestigious hotels and resorts. Mandarin Oriental now operates, or has under development, 41 hotels representing over 10,000 rooms in 24 countries, with 16 hotels in Asia, 15 in The Americas and 10 in Europe and North Africa.
Photography of Mandarin Oriental is available to download, in high and low resolution, in the Photo Library of our Media section, at http://www.mandarinoriental.com.
For further information, please contact:
Alexandra Wensley, Director of Communications
Telephone: (305) 913-8333
http://www.mandarinoriental.com
Editor's Note: Mandarin Oriental, Miami was home to the starring cast members of Marley & Me during its filming in spring 2008.
###