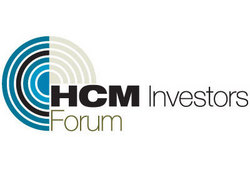 Aurora, ON (PRWEB) December 9, 2008
HR.com announces the launch of the inaugural HCM (Human Capital Management) Investors Forum.
The HCM Investors Forum is a two-day event that highlights the significant financial, economic, political, and technology trends impacting the Human Capital vertical space worldwide.
The HCM Investors Forum will feature the "who's who" in HCM investment, as well as Senior HR Executives and HCM solution providers, in interactive presentations, hot company pitches, and networking sessions that focus on bringing the right financing and expertise to the future leaders in the HCM universe.
The HCM Investors Forum will also host twelve of the "Hottest New Players " handpicked by HR.com along with twenty, six-minute pitches by CEO's from companies seeking later-stage capital, potential acquirers, or strategic business partners.
The goal of the HCM Investors Forum is to match growth company buyers with sellers, and to identify the most promising, innovation-driven, growth investment opportunities. Attendees will also be able to seek out and identify potential beta clients, board members and advisor roles for top HR Professionals.
Who Should Attend
We expect over 120 attendees to the inaugural HCM Investors Forum.
Attendees will be comprised of:
Finance Professionals including institutional investors, private equity groups, venture capitalists, investment bankers, high wealth investors, investment advisors, research analysts and corporate buyers.
Top influencers and HR Executives will be on hand to evaluate advisory roles and board positions, and to develop relationships with leading-edge opportunities for the new generation of HCM applications, and be available to consult, advise, and influence the future of these new HCM applications and services.
HCM solution providers looking for funding, acquisitions, or partnership opportunities.
HCM advisors and professionals including Consulting Firms, Legal Representatives and Accounting Firms.
Industry Analysts, Media representatives, and the Blogging Community will be moderating debates and following the action.
To view the Agenda, CLICK HERE.
To register online, CLICK HERE.
To register by phone, call HR.com at 1-877-472-6648 and ask for Virginia Bourne or Diane Horton.
To inquire about a complimentary pass or the opportunity to present, call Debbie McGrath CEO of HR.com at 1-877-472-6648 x 102
Press Contact:
Diane Horton
Director of Events
HR.com
877.472.6648
dhorton (at) hr.com
HR.com is a free website that is in business to help build great companies by connecting them to the knowledge and resources they need to effectively manage the people side of business. As the largest social network and online community of HR executives (currently numbering over 188,000), we provide thousands of worldwide members with easy access to shared knowledge on best practices, trends and industry news in order to help them develop their most important asset -– their people.
This press release was distributed through eMediawire by Human Resources Marketer (HR Marketer: http://www.HRmarketer.com) on behalf of the company listed above.
###