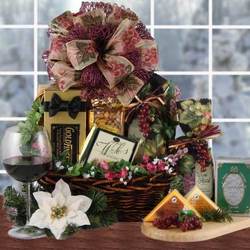 ThisNext Findings Indicate Black Friday Goes Cyber This Year
Parker, CO (PRWEB) December 11, 2008
BisketBaskets.com, an online gift baskets supplier, has released their list of unique gift ideas for the "hard-to-buy-for's" on gift lists all over the world, and reports more and more people are going online to find the perfect, unique gift this holiday season, courtesy of ThisNext.com findings.
According to the MarketWatch.com article, "ThisNext Findings Indicate Black Friday Goes Cyber This Year", online shopping is on the rise, especially after "Cyber Monday" online sales reporting.
"As people everywhere are being more frugal in a tough economy, finding that 'perfect' gift with a truly unique flavor is paramount," notes the article.
Mateo Gutierrez, Social Marketing Director at ThisNext, says that "Offline is really going online! We were both surprised and pleased to see that our users were sticking around longer, turning more pages and just generally shopping more thoughtfully on our site during this economic recession."
Continue the thoughtful shopping trend by finding Unique Holiday Gifts at BisketBaskets.com, for all those "hard-to-buy-for's" on your gift list, such as these fun gift recipients.
Know that family who just adores their dog and even has a dog sofa so their pooch can relax in style? Gift them with pet and owner gift baskets - tons of great treats for dog or kitty, and the rest of the family, too!
But what to do about teenage nieces and nephews! Sure, there's always the old gift card route, but that's no fun. Spa gift baskets are perfect for the young ladies and easing her high school worries, and barbecue baskets have all the right accessories so nephews can be the resident grill master in the summer.
For those wine aficionados on your gift list, gifting is a snap. Wine and cheese gift baskets are sure to put a delighted smile on their face and allow them to indulge in all the delicious meats and cheese that add that perfect touch to an amazing glass of wine.
If coffee and tea is more amenable to their palette than a glass of wine, tea and coffee gift baskets are a must! Just imagine - they can unwind from the holiday festivities with a soothing cup of tea, or perk up with coffee for post-holiday sales (online, of course!).
Many offices and large groups of friends have a "Secret Santa" where they pick a name to buy a gift for. Finding a gift to match their tastes can be very difficult, especially if they're not around them too often. That's where chocolate gift baskets and food baskets come in - who doesn't like a tasty piece of chocolate or a cookie to add some sweetness to their afternoon?
Find the perfect gift for those "hard-to-buy-for's" on your gift list with gourmet gift baskets from BisketBaskets.com. Visit BisketBaskets.com for a 5% off coupon, free shipping over $75, and a great variety of gourmet economical gifts.
About BisketBaskets.com:
As one of the net's leading retailers in Gourmet Gift Baskets, Corporate Gifts, and Holiday Baskets, BisketBaskets.com is committed to delivering beautiful, thoughtful gift baskets for everyone on your holiday shopping list. Plus with prices to fit any budget, BisketBaskets.com is the smart way to go this year. Start shopping better for those you care about. Start gifting them at BisketBaskets.com.
###