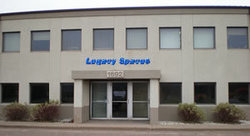 We at Legacy Spaces did not want to improve the existing public networking model; rather we envisioned a revolutionary new service for the benefit of all participants
Eau Claire, WI (PRWEB) December 10, 2008
LegacySpaces.com, the leader in Personal Private Networks, is now providing an alternative to the traditional social networking model. This one-of-a-kind service offers the benefits of private, secure Personal Networks and Legacy Management services. Individuals can now manage their own stand alone network avoiding the problems of shared online space.
"We at Legacy Spaces did not want to improve the existing public networking model; rather we envisioned a revolutionary new service for the benefit of all participants," says Javier Sanchez, President.
Many users of public social networks are subject to searches by employers, educators, data miners and anyone with the intent of finding personal information. This 'public' information can have long term negative repercussions and can be used by cyber thieves' intent on identity theft. Once information is made public online, it is virtually impossible to remove since it is indexed by search engines worldwide.
"LegacySpaces.com recognized the need for content and services that provide useful benefits and build long term relationships with participants in a private network that can only be accessed by invitation only. To this end we have created Personal Networks featuring a Legacy Home Page and Legacy Management services with a high priority on security. LegacySpaces.com features the latest encryption methods and unique innovations such as our 'Double Safe Security' function."
Legacy Home Page: The Legacy Home Page is where members share desired information on an 'Invitation Only' basis. Members have complete control over visitor traffic, posting and editing of information. Member collaborative relationships are not divulged in the interest of privacy. Members enjoy many options featuring over 50 tools for their home page along with Business Class Email, 10 GB of secured storage, EMS Text Notification and a one year display of their Legacy Tribute.
Legacy Management: This area offers members 10 sections featuring access to daily and long term use lifestyle tools in one convenient location. Legacy Spaces has partnerships with recognized and trusted industry leaders to provide money saving tips, education and informational guides, direction for managing your affairs, sending children to college and much more. Legacy Alert provides Amber and Silver Alert functions that can be used by law enforcement in the case of a missing person.
There are over 150 tools for managing health records, daily tasks, journals and diaries, safe guarding loved ones, enhancing connections and estate management. Members can take a proactive position creating legal documents, HIPAA compliant medical records, preparing end of life responsibilities and creating a tribute to honor their legacy. The EMS Organizer feature provides for instant access for emergency medical personnel to the health records that you wish to share.
"Traditional social networks do not have this high level of service, user privacy or security and are subject to abuse or unwanted content. We offer a complete solution primarily designed to be secure, user friendly and build the user's community of choice," says James Tafel, Vice President / CIO. Members have complete control over their private information designating what information to post / upload or keep stored on their own password protected computer.
Legacy Spaces contributes 21% of enrollment revenue to selected organizations that focus on Women, Children, Education and the Environment. Please contact us to see how your organization can participate.
Visitors have free access to a LegacySpaces 'visitor' account. Full membership participation is offered at $5.83 per month for first year ($69.99) with subsequent annual renewals at $1.66 per month. The Member format includes your own Personal Network, Business Class Email, 10 GB Secure storage plus over 150 Legacy Management Tools, Alert features, EMS Organizers, Notifications and much more. Visit us at LegacySpaces.com for complete details and build your own free visitor account.
###