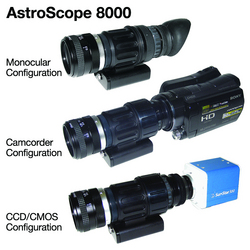 Fairfield, NJ (PRWEB) December 10, 2008 -
Electrophysics (http://www.electrophysics.com) has announced that it has launched the latest model in its night vision product line, the AstroScope 8000 series Night Vision Pocket Scope. According to Electrophysics, the AstroScope 8000 has been specifically designed as a multi-configuration night vision scope that can be easily attached to current popular camcorders and C-mount cameras. Unlike the standard issue PVS-14 pocketscope with its 40 degree field of view fixed lens, the AstroScope 8000 enables users to select C-mount fixed and zoom lenses that can increase the scope's focal length to over 300mm. The AstroScope 8000 is easily attached to many of today's popular camcorders to extend their use to night time image capture missions. In addition, a robust and easy to add C-mount camera adapter enables the user to convert most C-mount cameras into high performance low light imaging systems.
"The proliferation of video camcorders deployed in the theater has been significant and we clearly recognized that soldiers and field operatives needed a more flexible and rugged solution when mission demands dictated the use a pocketscope as a night vision enhancer in front of cameras. We designed the AstroScope 8000 to be the most universal and adaptable night vision device available. It takes only seconds to go from a pocketscope configuration to installing the night vision pocket scope on a camcorder or in front of a CCD camera. All components are extremely durable and specifically designed for demanding environments" said Art Stout, Electrophysics Vice President.
The AstroScope 8000 features all alloy construction, a focusable eyepiece with rubber eyecup, dual AA battery compartment and standard tripod mount. A wide range of intensifier options are available including most of today's popular Gen 3 intensifiers. In addition Electrophysics offers FOM 1250 and 1600 intensifier tubes for international customer delivery (subject to proper export license approval).
Company Background: Founded in 1969, Electrophysics designs and manufactures infrared equipment for a wide range of imaging applications including portable thermal imagers as well as night vision modules for low-light photography and videography. The company sells to industrial, scientific, law enforcement and US Department of Defense customers. In 2008, Electrophysics was acquired by Sofradir, a leading developer and manufacturer of advanced infrared (IR) detectors for military, space and industrial applications. Ulis, a subsidiary of Sofradir, designs and manufactures low cost uncooled amorphous silicon infrared detectors for commercial applications.
###