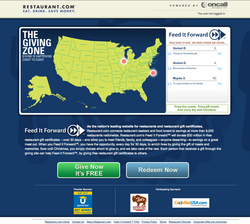 A down economy has the potential to do more than take gifts away from the deserving. A down economy has the potential to deprive people of one of the greatest gifts of all, the gift of giving
Arlington Heights, Ill. (PRWEB) December 10, 2008
Restaurant.com recently launched. "Feed It Forward," an online initiative supporting the act of giving during the down economy by enabling people to give away--at no cost--$30 million of Restaurant.com gift certificates up until Christmas. Now, with 15 days left before the holiday, Restaurant.com is enabling individuals nationwide to visit http://www.Restaurant.com/FeedItForward to help give away the remaining $27 million in gift certificates.
Restaurant.com initially launched Feed It Forward on Nov. 26 during the time of year when giving matters most. By doing so, the company aims to expand individuals' giving potential without requiring any financial obligation, offering millions of restaurant gift certificates for free to the nation. To date, Restaurant.com has given away $3 million in gift certificates to recipients in all 50 states with a giving rate that continues to grow.
"A down economy has the potential to do more than take gifts away from the deserving. A down economy has the potential to deprive people of one of the greatest gifts of all, the gift of giving," said Cary Chessick, president and CEO of Restaurant.com. "There is still time left and many more gift certificates to give away up until the very last minute. Visit the giving site every day until Christmas and help share the gift certificates with everyone deserving."
The "Feed It Forward" initiative is built upon a single giving Web site, http://www.Restaurant.com/FeedItForward, stocked with three million, $10 Restaurant.com gift certificates totaling $30 million. The site allows consumers to go online to give gift certificates to friends, family, co-workers and people who might not otherwise make their holiday gift list. Restaurant.com gift certificates are sent via email and do not require shipping or mailing. On a first come, first serve basis, gift givers can choose as many as three different people to give to every day for the length of the initiative. Gift recipients decide where to dine among more than 5,000 participating Restaurant.com restaurants nationwide.
Gift givers from coast to coast have joined in the 'feeding frenzy' to share the gift of giving and dining, and to express meaningful reasons why they decided to "Feed It Forward." As a whole, Restaurant.com has received thousands of letters from participants--parents, returning soldiers, daughters, friends, co-workers and more--who have shared gratitude for allowing them to give and receive gift certificates for free.
For instance, "Linda S." a Feed It Forward gift giver wrote, "During these restricted times, it is so great to be able to send even a small gift to people who mean so much to you during the year. Thank you for allowing me to do this." Separately, U.S. Soldier "Sean O." shared, "Thanks for doing this. I'm not very high on funds this year, or any year really, and I just got back from Iraq a bit ago. Thanks for helping me show those who supported a soldier that I love the respect they've given me and all soldiers for the past years."
According to a recent Gallup poll, the average consumer will spend $800 on gifts this holiday season. Individuals that have participated in the Feed It Forward initiative every for 30 days, giving three $10 gift certificates to three people per day, can give up to $900 in restaurant gift certificates--for free.
Individuals nationwide have equal opportunity to give the free Restaurant.com gift certificates away until Dec. 25. People can visit http://www.Restaurant.com/FeedItForward to participate and learn more about the "Feed It Forward" initiative.
About Restaurant.com
Restaurant.com connects restaurant seekers and food lovers to savings at more than 9,500 restaurants nationwide and to various online retailers. As the nation's leading online directory of restaurants and restaurant gift certificate provider, the company brings people together to relax, converse and enjoy well-prepared and -served meals at affordable prices. Restaurant.com has operated since 1999 and is based in Arlington Heights, Ill.
###