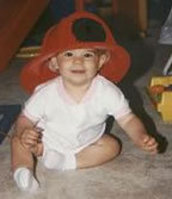 With the increased stresses of modern life and financial pressures on young parents, today
Washington, D.C. (PRWEB) December 11, 2008
National Association of Police and Lay Charities (NAPLC), President Eileen McCloskey, announced today the association's plan to freely distribute, to U.S. libraries, one hundred books and videos entitled, "Your Baby Can Talk."
Talking babies? Yes, with manual signs you can teach your baby from the widely accepted and award winning book and video, "Your Baby Can Talk."
Loved by babies, trusted by parents, and recommended by pediatricians, the "Your Baby Can Talk" book and videos gives parents and babies an early way to enhance their mutual understandings and relationships.
NAPLC, through its car donation charity functions has provided financial support and encouragement to Signwriting efforts as another very important function in our society to provide better lives for children and their parents.
Utilizing this innovative sign language, parents will have a new tool that will not only reduce the frustration born from miscommunication, but additionally provide a way to develop the early bond with their babies, so important for a child's healthy emotional growth.
The book and video package, which can be downloaded online, for $28.95, is a straightforward approach to teaching your baby a sign language of over 100 essential signs, which will help you and your baby to bond, and quickly be in communication.
Physically and cognitively stimulating, babies who grow up signing tend to become better students than those who do not. But, the real fun is being in communication with your preverbal baby. Now when your baby wants "milk," she can tell you she wants "milk". Or rather than kicking and screaming when he is finished eating, your baby can tell you he is "all done"... and ready to get out of his highchair.
"With the increased stresses of modern life and financial pressures on young parents, today," said McCloskey, "time spent with babies should be revitalizing and rewarding for both parent and child."
The above library gifts are a joint venture between NAPLC (long noted for their charity works through their vehicle donation program) and the Teddy Bear Cops - SignWriting programs.
###