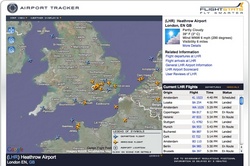 The localised version will make it that much easier to get timely, complete and accurate information on flight status and airport conditions in the UK and across the globe
Portland, OR (PRWEB) December 16, 2008
FlightStats today announced the public launch of a localised web site designed to provide flight status and airport information to UK-based travelers. Visitors to the site are greeted with a map showing current airport delay conditions for the UK and Ireland and a flight status search tool to find current flight information by flight, by route or by airport. To coincide with the launch of flightstats.co.uk, the company also announced the availability of map-based flight tracking for most European flights. The new flight tracker lets visitors see the current location of individual flights in European airspace on a Google(tm) Map complete with route tracing and a weather radar overlay. Visitors can also display an airport flight tracker that shows the current location of arriving and departing flights around European airports.
Flightstats.com has been heavily used by UK residents and travelers. "The localised version will make it that much easier to get timely, complete and accurate information on flight status and airport conditions in the UK and across the globe," said Jeff Kennedy, CEO of Conducive Technology Corp., FlightStats' parent. "And through an agreement with AirNav Systems, UK and other European users will be able to see the location of flights operating in European airspace - a feature that has been often requested by site visitors," he added.
In addition to its flight status and tracking services, the new site provides a wealth of information on airports including arrival/departure data, airport weather and traffic, current airport delay conditions, and the observations of travelers through FlightStats' airport chatter feature. FlightStats' UK Web site can be found at:
About FlightStats
FlightStats is an airline, airport, and travel information service provided by Conducive Technology Corp. FlightStats tracks nearly 150,000 flights worldwide each day and publishes current data on flights and airports via Web services APIs, RSS feeds and on the FlightStats Web site at FlightStats.com. Visitors can get flight status, view on-time performance ratings by flight or by airline, check for current airport delay and weather information, and much more. All services are free to site visitors and many services are available as widgets for installation on other web sites or personalized home pages such as iGoogle and Microsoft Live. FlightStats is also a leading provider of flight and itinerary monitoring and messaging services for corporate and online travel agencies, and airlines and is the definitive source for historical airline performance data. Conducive Technology is also a leading supplier of air travel information services to logistics professionals, airlines, airports and industry analysts.
###