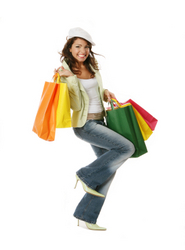 Edison, NJ (PRWEB) December 12, 2008
According to a 2008 Cystex survey conducted by Harris Interactive, about half of adults in the U.S. are wary of using public restrooms - women more so than men. However, during this busy holiday season, we will need to use public restrooms more frequently than usual…during long hours of holiday shopping at the mall, at the highway rest stop on the way to a visit at grandma's house, etc.
Before you leave home for your shopping trips or to visit the family, check out Cystex.com to find its partnership page with The Bathroom Diaries, providing a city-by-city public restroom finder feature which provides listings of public restrooms in cities across the country, along with ratings and reviews, hours of use and details about how clean, safe and aesthetically pleasing they might be. This allows you to see what's really going on behind closed doors and plot out good rest stops accordingly this holiday season.
Health experts say it is important to make time for the restroom in between shopping for gifts or driving to see your loved ones since one cause of urinary tract infections (UTIs) is associated with holding in urine for too long a period of time, allowing bacteria to flourish. When you feel the urge to go to the bathroom, you should go in order to avoid UTIs and possible bladder-lining damage, which allows UTI-causing bacteria to multiply and thrive.
Cystex® is a unique urinary analgesic sold over-the-counter that combines a pain reliever for temporary relief of the burning and discomfort of urinary tract infections (UTIs), with an antibacterial agent that helps slow the progression of the infection until you see your healthcare provider for definitive diagnosis and prescription treatment.
To learn more about urinary tract infections and to see the Bathroom Diaries ladies' room finder, visit http://www.Cystex.com.
-0-
*Methodology
Harris Interactive® fielded the study on behalf of Cystex® Urinary Pain Relief Tablets from February 6-8, 2008 via its QuickQuerySM online omnibus service, interviewing a nationwide sample of 2,015 U.S. adults aged 18 years and older who are employed full/part time. Data were weighted using propensity score weighting to be representative of the total U.S. adult population on the basis of region, age within gender, education, household income, race/ethnicity, and propensity to be online. No estimates of theoretical sampling error can be calculated; a full methodology is available.
###