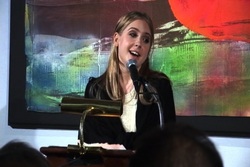 She is talking today to a new developing audience, like I was doing years ago.
New York City, NY (PRWEB) December 12, 2008
The NYC National Arts Club this week presented its most prestigious award, the Medal of Honor, to Caitlin Hill. Ms. Hill is one of the most popular online-video entertainers. Her work has achieved more than 21 million views, and the first online entertainer to receive the Club's award. The 20-year-old is known on YouTube and other online-video sites as TheHill88. She moved to Greenwich Village from Australia last year having received the first US 0-1 Visa for extraordinary ability as a web star. Until then, the visa was reserved for authors, actors, and other traditional artists.
Legendary radio personality, Cousin Brucie Morrow, introduced Ms. Hill at the December 8th event, calling her "Solid Gold." Morrow in 1965 introduced The Beatles at Shea Stadium. "I realized after watching Caitlin's videos that she is a Cousin Brucie of today," said Morrow, who currently performs on Sirius/XM radio. "She is talking today to a new developing audience, like I was doing years ago."
Ms. Hill is the Chief Creative Officer for Hitviews, a newly launched company that allows brands to become part of the powerful, exciting world of online web stars. These web stars command millions of views and have proven their ability to entertain millions of viewers on a regular basis. Hitviews integrates a brand's message inside online videos in a manner that protects the artistic integrity of the performer. Instead of launching expensive "viral videos," brands like TiVo and Reader's Digest have had Hitviews stars promote their brands in videos seen by millions.
The National Arts Club is a private club whose membership is dedicated to furthering art and artists in America. Three US Presidents also were members of the club - Theodore Roosevelt, Woodrow Wilson and Dwight D. Eisenhower.
"The National Arts Club is proud of its early recognition of new media art forms, like photography, film and digital media," said the club's President O. Aldon James, who has run the organization since 1985.
Reese Schonfeld, former CEO of CNN and founder of the Food Network, said, "When you meet Caitlin Hill you get an instant picture of where this industry is going. She personifies a new medium, and is a terrific judge of talent."
Centennial Broadcasting founder Allan Shaw, an investor in Hitviews, likened Caitlin Hill's work to Andy Warhol's efforts to attract drifters to appear in his underground films. Shaw who was President of ABC FM Radio in the 1970's brought rock music to FM, and helped the company pioneer the monetization of rock music. "Imagine if Andy was alive today - he'd have tons of videos on the internet.
"The audience, not critics, are the only relevant judges of media content - they vote for every movie, CD, radio station, TV show or online-video by either buying it, listening to it, watching it or subscribing to it," said Shaw.
"These so-called 'video stars' have the charisma and talent that Hollywood movie stars have," said Shaw. "But they also satisfy the need of the online-video audience, who want their stars to be real, authentic and very personal. The medium of the Internet allows this relationship to occur."
Hitviews was founded by CEO Walter Sabo, whose track record in media content creation brought private backing from many entertainment-industry pros such as Bob Weinstein, Co-Founder of Miramax, who calls Ms. Hill a "Savant." Gary Slaight, one of Canada's most successful broadcasters who owned more than 80 radio stations, is also a lead investor.
Ms. Hill conceives, performs, edits and scores the videos herself. The former Blockbuster employee and self-proclaimed "dork," has more than 70,000 subscribers who watch her perform impressions and chronicle her life. She was dubbed "the goofy princess of cyberspace" by 60 Minutes. "Caitlin Hill makes her work look easy," said Shaw. "In the same way that Fred Astaire made dancing look easy."
Caitlin Hill joins former National Arts Club Medal of Honor recipients Tennessee Williams, Arthur Miller, Leonard Bernstein, Salvador Dali and Martin Scorsese.
###