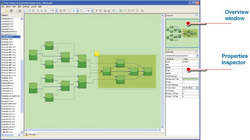 Oakland, CA (PRWEB) December 15, 2008
Tom Sawyer Software, the leading provider of high-performance graph visualization, layout, and analysis solutions, today announced Tom Sawyer Visualization, Version 9.0, Java Edition Release.
The Tom Sawyer Visualization product line delivers sophisticated component technology that manages, reveals, and displays graphical, customized views of relational data, making it possible to immediately identify relationships, connections, and emerging patterns within the data. The software displays pathways, models, flows, dependencies, networks, and schematics in a comprehensive visual format.
New Benefits
Tom Sawyer Visualization, Version 9.0 focuses primarily on the graphics system and refined user interface presentation. The new release introduces a new data-driven scene-based graphics system with an integrated expression language support. This new graphics system enables our customers in defense, financial services, IT, networking, and software engineering to build applications with expressive data-driven graphics more quickly and efficiently. Many new graphical effects and transitions are supported or can be easily implemented. The user interface elements have been redesigned for improved visual appeal. Our customers can readily decorate their drawings with data driven graphical attributing.
Tom Sawyer Visualization also relies on Tom Sawyer Layout for fine global and incremental automatic layout, labeling, and routing. For years, enterprise-class customers with large complex data sets and many drawing rules have been aware that no other academic, commercial, or open source offering has the scalability, reliability, and quality that Tom Sawyer products offer.
Tom Sawyer Visualization, Version 9.0 also introduces new layout progress, layout cancel, layout fading transitions and animation, and multi-threaded layout support. The new release implements new drawing fitting technology where each layout style has new features to fit the drawing canvas or the printed page more optimally. For instance, circular and symmetric layouts will rotate optimally to fit the canvas or printed page. If a resultant drawing more closely fits the aspect ratio of the canvas or printed page, then each user interface element in the drawing is easier to read at lower zoom levels. Further, this release continues with many layout, labeling, and routing refinements.
New Features
Tom Sawyer Visualization, Version 9.0, Java Edition offers new and enhanced features:
System
-Enhanced Apple Macintosh support
-Refined Linux support
-Refined internationalization
Documentation
-Enhanced Developer's Guide
-Expanded Tutorials
-Enhanced References
Graphical Drawings
-New data driven scene-based drawing elements
-New drawing element scene hierarchies permit rich user interface decoration
-New runtime drawing element construction and manipulation
-New expression language enables dynamic control of user interface representation
-New runtime graphics API
-New graphical node, edge, connector, label and arrow head representations
-Refined expanded node representation
-Refined selection representation
-New highlighting
-New shading
-New graphical badging
-New industry shapes
-Enhanced XML representation
-Backward compatibility for prior graphics system
Display
-New fade transitions
-New interpolated animation
-New zoom animation
-High rendering performance
User Interactions
-New tool implementations
-New preference dialog
Layout
-New layout progress
-New layout cancel
-New layout animation
-New layout fade transitions
-New non-blocking multi-threading
-New drawing fitting optimizes screen utilization
-Circular layout
-New drawing fitting rotation
-Hierarchical layout
-Refined node placement
-Orthogonal layout
-Many routing refinements
-Many local crossing refinements
-Symmetric layout
-New drawing fitting rotation
-Refined constraints
-New grouping constraints
-Nested layout
-Apply layout style deeply
-Reduced inter-drawing edge crossings
-Labeling
-Refined labeling improves clarity
Demonstrations
-New demonstration applications
-New toolbars
-New menu design
-New docking
About Tom Sawyer Software
Tom Sawyer Software is the premier provider of visualization, layout, and analysis solutions that help you make better and faster decisions. Recognized for its robust and highly scalable technology, Tom Sawyer products are used by Global 2000 companies to build applications in a variety of industries including banking, data management, energy, engineering design, intelligence, IT, life sciences, networking, and software engineering.
###