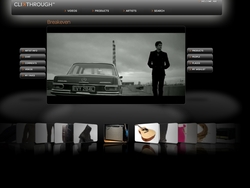 San Francisco, CA (PRWEB) December 16, 2008
Clikthrough Inc., a privately funded interactive audience measurement company specializing in video encoding and analytics, has partnered with Phonogenic Records to debut its era-defining technology in a new single and video by UK chart toppers The Script.
Clikthrough comes to market with never-before-seen video markup and analytics tools designed so that consumers can "Clik", interact with, and explore all available content within a video. This provides content owners and advertisers with unprecedented opportunities to reach, engage, measure, and merchandise to a more engaged consumer audience without traditional commercial interruptions.
Together with exclusive partner Phonogenic Records, Clikthrough will employ its new encoding technology to "hotspot" a video for the new single, Breakeven, by Irish hit-makers The Script. The 255-second video for Breakeven contains a total of 242 product hotspots, with a total product exposure value of $170,219. That value equals $667 of merchandise per second of video, underscoring the monetization power of this new approach to video advertising and engagement.
As online video viewership skyrockets, Clikthrough is poised to meet a crucial need by helping content owners and advertisers subsidize or replace lost analog revenue with new digital revenue opportunities. By perfecting the tools that both monetize online content and increase consumer engagement for content owners and advertisers, Clikthrough has taken the pulse of the entertainment industry and created a comprehensive solution for the future.
Detailing the partnership, Paul Lisberg, co-owner at Phonogenic Records, didn't hide his enthusiasm. "As the first adopter of Clikthrough, we are delighted to be working at the forefront of a breakthrough technology. It will provide fans with a chance to get closer than they've ever been to their favorite artists, and it will provide record companies and advertisers with an unprecedented way to share in previously untapped online revenue streams. We believe the opportunities in this new arena are exciting, far-reaching, and potentially transformative for the entire entertainment industry."
Abe McCallum, CEO of Clikthrough, was equally enthusiastic. "We are thrilled to work with Phonogenic Records and The Script in this partnership, because we are breaking new ground. We know people watch their favorite videos and wonder how they can get their favorite artist's new shirt, check out a pair of sunglasses, or find out who that extra is in the background of a new music video. Coming from entertainment, we understood the convergence of marketing, entertainment and technology, and we want to provide the tools to bring consumers closer to video."
Clikthrough has put together a team of seasoned entertainment, technology, and marketing industry veterans to build a 21st century platform to monetize content and engage consumers in the new digital video economy. The company has raised over $1 million to date through angel investors. In the last three months, Clikthrough has inked key content partnerships with major Hollywood studios, and feels that these relationships are only the beginning.
About Phonogenic Records:
Phonogenic Records is a UK record label under the RCA Label Group (UK), a subsidiary of Sony Music Entertainment. Phonogenic Records represents some of the biggest stars in the UK music industry, including international hitmakers like Natasha Bedingfield, The Script, and Edwina Jhonson.
About Clikthrough:
Clikthrough Inc., is an interactive audience measurement company specializing in video encoding and analytics. Clikthrough has developed the tools that both monetize online content and increase consumer engagement for content owners and advertisers. By giving consumers a new avenue to explore what's inside the video content they watch, and by helping content owners and advertisers both monetize content and see deeper than ever into consumer engagement with online video, Clikthrough's solutions are helping the entertainment industry map the future of the online video economy.
For more information please contact:
Paul Lisberg
Phonogenic Records
Tele: 020 7361 8555
Email: paul.lisberg at sonybmg dot com
Abe McCallum
Clikthrough, Inc.
Tele: 888.983.0004
Email: press at clikthrough dot com
http://www.clikthrough.com - Stop Watching. Start Interacting.
###