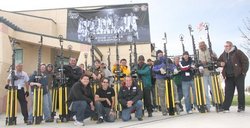 This tournament taught us a lot about planning for these large soccer events
Lancaster, CA (PRWEB) December 16, 2008
HI-POD has just completed the first of a 4-tournament deal with USSoccer by videotaping all of the USSoccer's Youth Development Academy tournament games with 31-foot HI-POD camera systems. The first of the 4 tournaments occurred in Lancaster, CA December 5-8, 2008 and consisted of 228 games over a 4-day period. The future 3 tournaments (Greensboro NC in May, Sarasota FL in June, & at the LA Home Depot Center in July), will also have 31ft HI-PODs videotaping each of the games as well.
The contract not only includes HI-POD high altitude videotaping of all the tournament games, but also delivering high definition video DVDs to each of the coaches at the end of every day; capturing and delivering highlights of every game to USSoccer so it can be uploaded & viewed on the USSoccer website; and finally, creating Standard Definition DVDs to be used for data/player analysis.
Thirty HI-POD Core X4 units were used to achieve this. A HI-POD Core X4 unit was positioned on each soccer field that was being used by the tournament. On average 25 games were being played simultaneously 3 to 4 times a day over a 4 day period across the vast Lancaster Soccer complex. "Extensive prep goes into organizing something like this," stated Hi-Pod tournament producer Briggs Palmer. "First, training operators, second getting them all out to Lancaster on time every morning, which is an hour and a half north of LA. Third, coordinating tape pickup after every game, fourth, managing batteries for all operators."
Palmer added, "You get the picture. It is a logistical nightmare, but it went off without a hitch. The HI-POD shots turned out great."
"This was US Soccer's Youth Development Academy Winter showcase. And as the name implies, the purpose for videotaping all the games is to help develop tomorrow's great USA players," stated HI-POD President, Enrique Morales. "The HI-POD helps do this by capturing a stadium-like shot without the need of a stadium. If you shoot at eye-level you really cannot see anything, and certainly you can't teach from it. But by shooting from HI-POD altitudes, you can see player positioning and can create strategy."
The HI-POD Core X4 is an extremely mobile telescoping camera mast. Its six-stage system conveniently elevates from 6 to 31 feet and locks at any altitude in between. With 360 degrees of pan, and 180 degrees of tilt, the HI-POD core X4 also offers touch control of zoom and record functions. Great versatility has been added to the Core X4 by making it compatible with almost all camcorders. Lanc Protocol cameras work with the HI-POD as well as any camera with a wireless remote.
"I can't believe how much fun the HI-POD was to use," beamed HI-POD Operator Daniel Reyes. "There are no stadiums out there, just soccer field after soccer field. Can you imagine the labor, time and cost to setup Scaffolding on each of the fields? No thank you," concluded Reyes.
"This tournament taught us a lot about planning for these large soccer events," stated HI-POD president Enrique Morales. "Now I believe we are ready to take it to the next level. We just introduced the HI-PODCASTER streaming channel, why not stream all the games and offer them as pay per view? We are ready, and I think the tournaments are ready as well," concluded Morales.
###