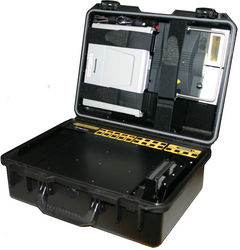 The PacStar 4100 is an incredibly robust platform that allows a minimally trained user to support Commanders or small teams during the initial entry period of an operation until the mission is complete
Portland, OR (PRWEB) December 16, 2008
PacStar™, a technology-based provider of communications solutions to the military and government, announces the availability of the PacStar 4100 Initial Entry Package (IEP). The PacStar 4100 IEP is a highly portable, software-managed communications package designed to provide rapid on-the-ground network support to high-profile individuals and teams of up to 20 users. The easy-to-use interface enables a complete communications solution including converged voice and data and both classified and non-classified network access.
The development of the PacStar 4100 was achieved in partnership with the Joint Communications Support Element (JCSE), the Department of Defense's leader in the modernization of tactical communications. JCSE will provide the PacStar 4100 to some of the military's "early entry teams." These highly specialized units are routinely deployed throughout the world in support of the Global War on Terrorism, as well as in reaction to natural disasters and humanitarian relief operations.
The new product leverages PacStar's years of expertise in software development, network integration, and mechanical engineering. All components are pre-connected, pre-configured, and managed by customized PacStar IQ-Core™ Software.
"The government and U.S. military rely on PacStar's IQ-Core Software to simplify set-up and operate some of its most advanced communications systems," said Robert Frisbee, CEO of PacStar. "Agencies have expressed interest in having PacStar's powerful, wizard-based approach in an easily transportable, secure communications package. The PacStar 4100 addresses that need."
In a package that is small and light enough to meet airline carry-on requirements and fit into the overhead bin, the PacStar 4100 is uniquely powerful and flexible, enabling simultaneous service to classified and non-classified networks. "The PacStar 4100 is an incredibly robust platform that allows a minimally trained user to support Commanders or small teams during the initial entry period of an operation until the mission is complete," said Charlie Kawasaki, Chief Technology Officer at PacStar.
The PacStar 4100 delivers Defense Switched Network (DSN) voice and data services, can connect to LAN or satellite, and IP or analog phones. The package also provides access to two data networks (NIPRNet and SIPRNet) that are configurable based on user requirements. These data networks and Voice over Secure Internet Protocol (VoSIP) phones are separated from the system by High Assurance Internet Protocol Encryptor (HAIPE) devices.
"Providing immediate, reliable access to the defense network ensures our soldiers are effectively able to respond to any level of conflict or disaster worldwide," said Kawasaki.
About Joint Communications Support Element (JCSE):
The Joint Communications Support Element (JCSE), headquartered at MacDill Air Force Base, Fla., is a subordinate unified command of U.S. Joint Forces Command (USJFCOM). JCSE provides United States Special Operations Command, the services, combatant commanders, DoD and governmental organizations, as well as foreign governments, state of the art, rapidly deployable and flexible communications at the direction of the chairman of the Joint Chiefs of Staff. JCSE also supports U.S. Northern Command and Department of Homeland Security contingency planning for natural disasters and the Global War on Terrorism.
About PacStar:
Pacific Star Communications (PacStar™) is a leading technology-based systems integrator providing total communications solutions that empower military, federal, state and local governments, and emergency responders with reliable, interoperable communications capabilities. Our patent-pending IQ-Core™ software and hardware technology and integration/installation services provide secure, command control and communications systems particularly in remote or infrastructure-starved areas. In addition, PacStar provides a full range of communications solutions to commercial businesses, as well as telecommunications service providers.
For more information, please visit http://www.pacstar.com or call 888-872-1512.
###