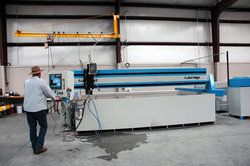 I like Jet Edge's vertical integration and one call for service
Goldsboro, NC (PRWEB) December 16, 2008
Jet Edge, Inc., is pleased to announce that Reuel Inc. of Goldsboro, N.C., has installed Jet Edge's latest ultra-high pressure waterjet cutting system, the Jet Edge Mid Rail Gantry. With its new waterjet system, Reuel is now capable of cutting complex parts from virtually any material with water that has been pressurized to 60,000 psi. and mixed with an abrasive.
Reuel is an internationally-leading manufacturer of insulating components for the electrical power equipment industry. The company specializes in molded switchgear components, apparatus bushings and specialty products for medium voltage electrical distribution equipment. It also manufactures traction-power substations for mass transit authorities and large-scale contractors.
Established in 1987 by Larry and Sue Davis, Reuel has grown steadily over the years and is now one of the larger manufacturers in its industry. The company, which started out manufacturing just epoxy and other polymeric material electrical components, has grown to over 50 employees and now occupies a 110,000 square foot state-of-the-art manufacturing facility that features fully equipped machine and fabrication shops that, in addition to the new waterjet, include vertical milling centers, plunge and wire EDM machines, CNC lathes, CNC punches and press brakes, a shear, plasma cutter and a powder-coat paint line. Reuel also has a high-tech molding and casting department that features 11 hydraulic molding presses including a custom press that it built itself, plus a new pneumatic material conveying system.
According to Jason Stevens, Reuel project engineer, Reuel decided to add waterjet cutting to its extensive machining capabilities because it is the most effective way to cut GP03 fiberglass, one of the primary materials used in the company's switchgear components for its traction-power substation line.
"Waterjet is the best way to cut parts from this material because it eliminates an aggravating fine dust that is created by other cutting methods," Stevens said. "This dust can cause accelerated machine wear especially in machine ways and optical encoders."
Reuel also plans to cut other materials with its waterjet machine, including steel, stainless steel, polycarbonate and copper, Stevens noted.
Prior to purchasing its Jet Edge system, Reuel had been outsourcing its waterjetting, but determined it would be more cost-effective and efficient to bring its waterjet cutting in-house, Stevens explained.
"Now that we have our Jet Edge waterjet, we will have control over our process and control over lead time in addition to cost savings," he said.
Within a week of installing the Jet Edge, Reuel had already trained five employees how to run the machine (the company cross-trains its fabrication shop employees) and was busy cutting GP03 insulating components for a traction-power substation it is building for a light rail system in New Orleans. Reuel is building two substations for the city's transit authority to replace units damaged by flooding following Hurricane Katrina.
"Jet Edge's training was great," Stevens said. "The machine is working great, it can be run relatively unattended, and it looks like maintenance should be easy. I like the SigmaNEST® Companion CAD/CAM software on the controller. It seems to be very intuitive and the controller also is fairly intuitive. It's one of the easiest that I've used."
Stevens said he researched 20 waterjet systems from various manufacturers before deciding on Jet Edge.
"I like Jet Edge's vertical integration and one call for service," he said. "A lot of the other companies require you to call one company for parts and service on the gantry and another for parts and service on the pump. I also liked Jet Edge's 24-hour availability. Many other waterjet manufacturers were available eight to five in their time zone or they had online support. Plus, I really liked working with David Arthur (Jet Edge's Southeast U.S. regional sales manager). I felt that he was as honest as a salesman could be and was willing to work with us to determine the best solution."
The Jet Edge Mid Rail Gantry selected by Reuel features an 8'X13' work envelope with an exposed tank that easily accommodates overhead loading. It comes standard with one abrasivejet cutting head; a second cutting head can be added to increase productivity. The Mid Rail Gantry is ball-screw driven for higher accuracy. Its sturdy heavy-wall tubular steel construction eliminates vibration and increases longevity. The Mid Rail Gantry utilizes an industrial PC controller and can be configured so that all three axes are fully programmable (Z optional). It also features direct-couple AC brushless digital servo motors and single or double carriages. Critical bearing components are protected with heavy metal covers with brush seals.
More Information
For more information about Reuel, visit http://www.reuelnc.com or call 919-734-0460.
For more information about Jet Edge, visit http://www.jetedge.com or call 1-800-JET-EDGE (538-3343).
About Jet Edge:
Established in 1984, Jet Edge is a global designer and manufacturer of waterjet systems for precision cutting, surface preparation and coating removal. Jet Edge systems are used around the world in a broad range of industries, from the world's leading airlines to automotive, aerospace, industrial manufacturers, machine and job shops. Jet Edge waterjet systems are proudly made in the U.S.A. For more information about Jet Edge, visit http://www.jetedge.com or call 1-800-JET-EDGE (538-3343).
###