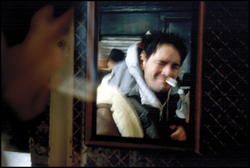 New York, NY (PRWEB) December 17, 2008
Ohad Maiman (http://www.ohadmaiman.com/) announced today that his new book, 'Theory of Wants', is now available in most bookstores. There will be a book launch event on Thursday, December 18, at the 2008 at Milk Gallery, 450 West 15th Street, New York, NY 10011.
Forward by Carlo Zeitschel: "This book strives to analyze what it is like to live through our twenties in today's world. In a society where everything is at one's fingertips and people's wants and desires seem to be growing ever more contorted, it becomes increasingly difficult to find your place in the world without the eerie feeling of being manipulated into conformity. It is fair to say most people spend their twenties trying to figure out what they want to do with their lives, or at least witnessing what they do and do not want to become. Everyone wants to be happy, but few actually ever stop to question whether they are or not, or if whatever it is they're doing with themselves will ever even lead them there."
Zeitschel continues, "People become trapped in various frames of perception, whether they are born into them or think they're just trying to do the 'right thing'; the world can become a very different place from one moment to the next when you chose to change the fundamental paradigms by which you interact with it. Just like beauty is in the eye of the beholder, some realities only become plain to you when they are unlocked by certain moments when you feel them profoundly and see them so vividly. These images are in a way a personal revelation, a collection of instances and sentiments that helped shape and express Maiman's sense of wonderment and unrest, and the pressing calls for a freer more serene existence. "
About Ohad Maiman:
Ohad Maiman was born in Israel in 1977; upon completing his studies he served for 3 years in the IDF, traveled extensively, eventually settling down in NYC in 1999. In 2003, he graduated in philosophy and visual arts from Colombia University. His photography is represented by CVZ Contemporary (http://www.cvzcontemporary.com/) since 2005 and has been exhibited regularly; this is his first book.
###