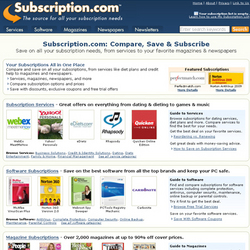 Austin, TX (PRWEB) December 16, 2008
Subscription.com announces two new sections of the site, boasting lots of great subscriptions for the budget-conscious. With a Newsletter subscriptions section and new Software subscriptions section, Subscription.com continues to provide consumers with the single, best Website for finding, researching and comparing the best subscription services.
Subscription.com's new Software section helps users find and compare the best computer software for AntiVirus, Complete Protection, Computer Security, Maintenance, Online Backup and Parental Controls. Subscription software products protect your computer from viruses, worms, hackers, spyware, ID theft and other scams. Users will find subscriptions from all the top brands.
Make it your New Year's resolution to finally organize those online files. Now is a great time of year to purchase software subscriptions. Plus, anyone can enjoy some serious savings this season with software coupon codes.
During difficult economic times, a subscription to a financial publication is a great way to plan a smart way of living and learn how to invest and manage money. Users can subscribe to Financial Newsletters to enhance their investment knowledge and grow their money-making opportunities. With over a dozen publications, users can compare and save on all the best financial newsletter subscriptions.
Avoid the hassle of shopping in-store and give a gift subscription to one of thousands of services, magazines, newspapers or newsletters. Subscriptions are the perfect solution for holiday shoppers looking for something practical for everyone on their list. They keep on giving all year long!
About Subscription.com:
Subscription.com is the place for all your subscription needs. The site helps users to quickly find, research and compare services for everything from dating and identity protection, to publications like newspapers and magazines. Subscription.com features over 60 services, more than 25 software services, over 2,000 magazines, more than 200 national and local newspapers and over a dozen newsletters. Users can browse by category or topic to find subscriptions of interest to them, and enjoy special deals and exclusive coupon codes for extra savings.
For more information, visit http://www.Subscription.com.
###