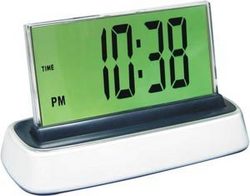 Our goal has always been to make an alarm clock that would simplify and add ease to all of our customers' everyday lives
Jericho, NY (PRWEB) December 17, 2008
Independent Living Aids (ila) is proud to be the exclusive distributor of Moshi products in the blindness and visual impairment field. A partnership of shared ideals, Moshi Lifestyle offers its customers comfort through innovation and ila provides the very best products so customers can enjoy an active, independent lifestyle. Moshi's latest product, the new Interactive Voice Responsive Clock, is a natural addition to the ila line of products that empower the visually impaired.
"We are continually looking for the newest, most innovative products that can benefit our clientele. The Moshi IVR Alarm Clock is a fantastic product that is sure to help our customers enjoy an active and productive lifestyle with ease," said Irwin Schneidmill, president of Independent Living Aids. "We here at ila are very excited to be working with Moshi. Their advanced technology is a wonderful addition to our company and we are in a great position to let the visually impaired and blind community know about this amazing new product."
Moshi's Talking Interactive Voice Responsive Clock is the first clock that is completely touch-free, and is officially endorsed by the World Blind Association. Using the initial command of "Hello Moshi TM", the user can set both the time and alarm in addition to ten other voice activated commands from anywhere in the room. With advanced IVR technology that utilizes Neural Net and HMM phonetic speaker independent recognition software, the IVR alarm clock is able to recognize every user's voice right out of the box. The voice recognition software includes a large, highly accurate library of words and is capable of understanding a wide selection of accents. Users do not have to pre-program anything, just plug in and begin.
"Our goal has always been to make an alarm clock that would simplify and add ease to all of our customers' everyday lives," said Michael Nostrant, CEO of SnS International, parent company of Moshi Lifestyle. "We are pleased to see that this product has real value, especially to those who are visually impaired."
Manufacturer's suggested retail price of the Moshi Talking Alarm Clock is $49.95. It is available for purchase on the ila website.
About Moshi:
MoshiLifestyle™ was formed to encompass what the Moshi® Pillow symbolizes: comfort through innovation. Moshi® products apply advanced technology to home appliances in a user-friendly fashion that creates solutions for everyday problems.
Moshi® is dedicated to producing high-quality products at low costs that integrate into each customer's lifestyle. Moshi® customers look for unique and innovative products that provide efficiency and comfort. For more information, please visit: http://www.moshilifestyle.com.
About Independent Living Aids:
Independent Living Aids, LLC is the oldest privately-held mail-order company in the United States with products for individuals who are visually impaired or blind. With over 30 years of experience providing essential aids with superb service, ila has become a trusted source of products for the blind and visually impaired. All the items offered are carefully selected, quality products at reasonable prices. Helping customers remain independent is the goal and every item is chosen with that goal in mind.
For more information on the Moshi Interactive Voice Responsive Alarm Clock or Independent Living Aids, please visit http://www.independentliving.com or call 1-800-537-2118.
###