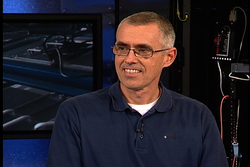 Los Angeles, CA (PRWEB) December 17, 2008

TechWiseTV: Switching Secrets for Multimedia
Thursday, December 18, 10-11 a.m. Pacific; 1-2 p.m. Eastern
Register: http://www.cisco.com/en/US/solutions/ns340/ns339/ns638/ns914/html_TWTV/twtv_episode_40.html
Cisco's TechWiseTV will highlight "Switching Secrets for Multimedia" in its 40th episode. Robb Boyd and Jimmy Ray Purser, Solutions and Technology Experts of TechWiseTV, will clue you in on switching technology you might already have to achieve the network performance needed for handling rich communication and full-service video. This comes at a time where optimizing network switch performance for video is becoming vital as video conferencing and communication go mainstream.
Carl Solder, one of Cisco's eight Distinguished Technical Marketing Engineers, joins TechWiseTV to reveal the valuable techniques, tools, and innovations that can help maximize return from your switching investments. Discover how rich multimedia is affecting switch and network design. Find out how to architect a real-time network to support rich communication and full-service video through extensive whiteboarding sessions. Learn the most overlooked and underpublicized secrets for effective core security as well as:

How to use Generic Online Diagnostics (GOLD), NetFlow, and other built-in tools to identify and eliminate the sources of jitter.
What makes a switch truly "stackable" and why the distinction is vitally important
How to use the Programmable Intelligent Services Accelerator (PISA) to achieve effective Layer 4-7 security
How to take advantage of the Cisco Virtual Switching System (VSS) to maximize availability, scalability, management, and ease of maintenance
Our expert guests, Robb Boyd, Jimmy Ray Purser and Carl Solder, will conduct a live Q&A to answer your switching questions during the broadcast.
Catch a sneak peek: http://www.youtube.com/watch?v=cAt-gi1F1zs
*Robb Boyd and Jimmy Ray Purser, are Solutions and Technology Experts of TechWiseTV. Visit their blog: http://www.mytechwisetvblog.com/
*Special Guest: Carl Solder is Cisco's Distinguished Technical Marketing Engineer
# # #