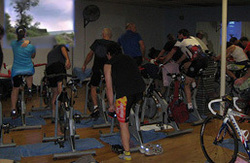 We needed something dramatic to show off our radical departure from the typical indoor cycling video. This mammoth tour did just that.
Lower Burrell, PA (PRWEB) December 18, 2008
Global Ride, LLC has just completed their nationwide tour covering almost 10,000 miles coast to coast in 12 days, premiering their three new Hawaii DVDs at 11 facilities who offer indoor cycling or Spinning®. From small "indoor cycling only" studios of just 20 bikes, to mammoth gyms with 100 riders, Global Ride treated cyclists to the next big thing in indoor cycling training - virtual rides.
Driving from Pittsburgh to the major cities on the east coast, and then flying throughout the west and west coast, Global Ride founder Gene Nacey and his crew did the proverbial road show in ambitious fashion. "We needed something dramatic to show off our radical departure from the typical indoor cycling video. This mammoth tour did just that." said Nacey.
Apparently he's not the only one to see this as big change in the cycling DVD business. Greg Moody from CBS Affiliate channel 4 in Denver, Colorado also saw this as completely different approach to Spinning® or indoor cycling training. Using strict cycling principals and training objectives, Global Ride DVDs were created to appeal directly to the dedicated cyclist. However, because Global Ride also owns and operates one of the most sophisticated Spinning® studios in the U.S., they have also been designed to work exceptionally well in the classroom setting. This tour has clearly corroborated their methodology. Global Ride was the first to create the unique "coaching track" concept whereby individual cyclists can choose from 4 different coaching tracks; a way to provide multiple rides from the same DVD. However, an indoor cycling instructor can choose to use the "No Coaching" choice and coach the DVD live as well.
This is exactly what Gene Nacey and his crew did in their nation wide tour. The tour also kept a daily blog of each club's experience, including interesting (and sometimes comical) side notes about the team's travails on the road, as well as a 4 - 7 minute YouTube video of each location. Cities in the tour included Boston, NY, Brooklyn, DC, Atlanta, Miami, Denver, Sacramento, LA, San Diego and Minneapolis.
"It was tough hitting the road this hard so close to the holidays, but my team worked too long, and sacrificed too much to get this gift box set completed in time for Christmas. I couldn't let them down by not promoting it properly. Now that it's behind us, I can see how valuable it was. Not only did we get tremendous feedback, including CBS news coverage, but we got the confirmation we were looking for - that this is indeed the next big thing in indoor cycling." said founder, Gene Nacey
Global Ride has raised the bar for virtual cycling DVDs in not only their multiple coaching track initiative, but also in their cross training bonus sections at the end of each DVD. Cyclists are treated to either Yoga for Cyclists, Pilates for Cyclists, or Strength Training with light weights for Cyclists at the end of each DVD. Now there are no more excuses for skipping your cross training; each ride is followed by a 30 minute segment to complete your workout.
Global Ride will be releasing their Italy series with a similar nationwide tour later this winter as well. Given that they will be producing 6 DVDs per winter riding season, they have also developed a frequent buyer program where customers can earn free DVDs through both purchases as well as participation in their Premier nights when new DVDs are launched.
###